Who's Ready For A Virtual Family Scavenger Hunt?
Since we're all spending a lot of time at home right now, it just makes sense to figure out a way to use our time more efficiently and better. After all, we can all only binge-watch so many shows on Netflix before we've pretty much watched it all, right?
This is where this Virtual Family Scavenger Hunt and Virtual Scavenger Hunt For Kids comes into play. These fun family-friendly activities prove that you don't have to be together to be able to do fun things.
Once you've had a go at these, why not check out Virtual Family Fortunes too
Make certain to print off both printables to give your family and your kids some much-needed time together, even though everyone might actually be apart!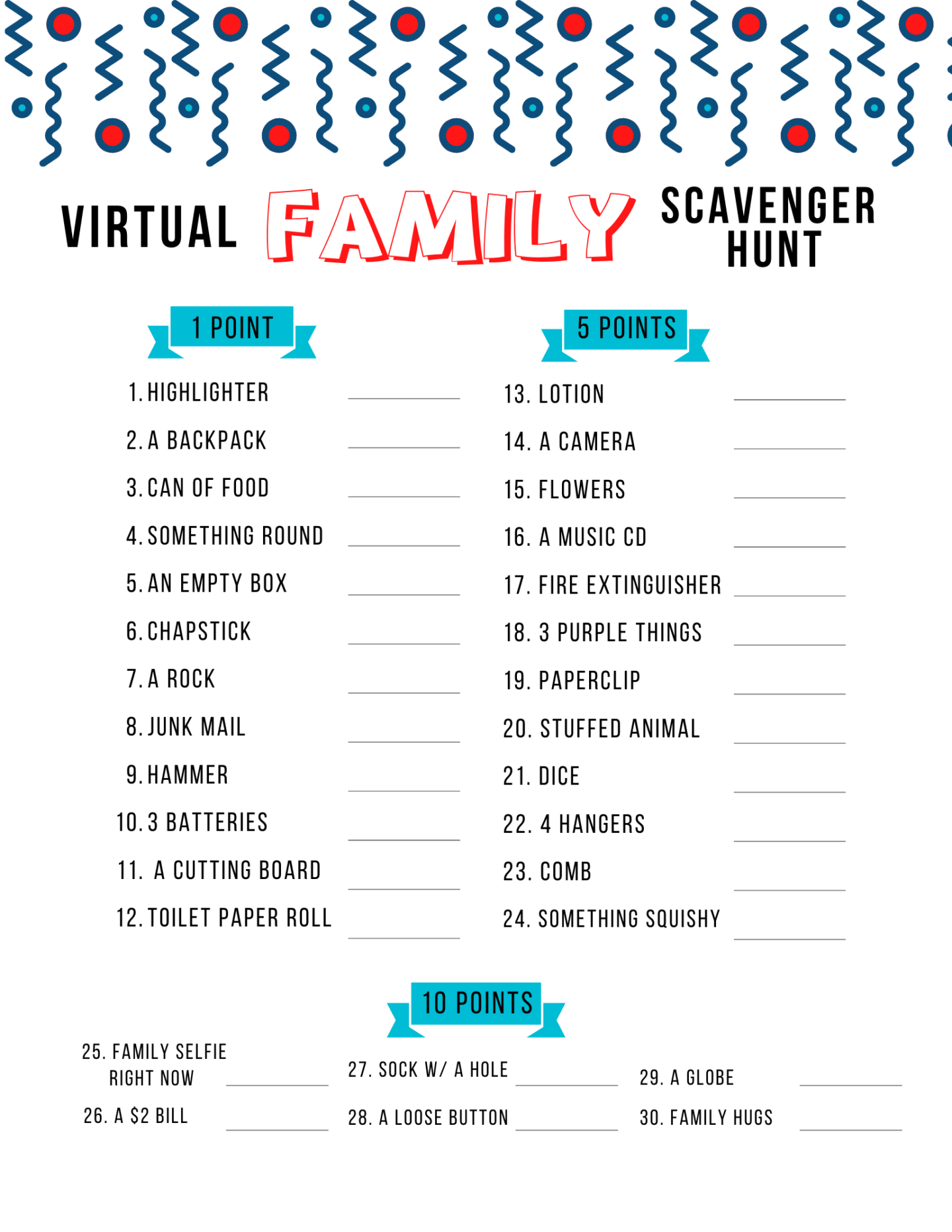 What is a virtual scavenger hunt?
It's really just like it sounds! Gather up your family (or have the kids gather up their friends) and make certain each person has a copy of the scavenger hunt list.
Zoom, Skype, Facetime, or call each other however works best and set a timer to see who can gather up the most items on the scavenger hunt list the fastest. It's just as simple as that!
Virtual Family Scavenger Hunt (+ one for kids only, too!)
Having a virtual scavenger hunt is so much fun. It's a simple way to connect with family members or a great way to let the kids connect virtually with their friends.
While the two scavengers hunts are a little bit different, both can easily be used and intertwined without issue.
Some of the simple items that will have to be found on the scavenger hunt are:
Backpack
Chapstick
A rock
Stuffed Animal
Favorite Toy
A Coin
Colorful Socks
And the list goes on and on. As you can see, these are family-friendly and great for all ages! Why not print them off and let the good times roll?!
For the complete list for the Virtual Scavenger Hunt for Families and the Virtual Scavenger Hunt for Kids, just click the links below to download them both!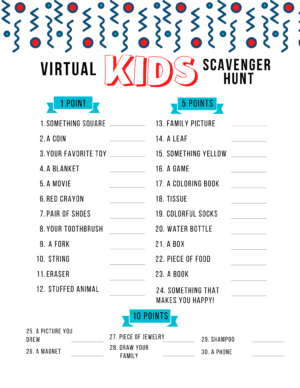 What are some other ways to have a virtual scavenger hunt?
You can also break this up and go down the list one by one. See who can find the item first and show it to the other person on the screen to win!
Or maybe split the list between different children ,depending on their age, the younger children have to find the items worth 1 point and the teenagers have to take on the 10 pointers!
There are so many ways that you can have fun with this scavenger hunt idea so really go with it and make it your own!
The great thing with this type of hunt is that there is no single right way to go about it.
Who are you going to do this virtual scavenger hunt with?
If you are like us and haver a large family, then there's always someone to play with, if there are only a few of you, why not jump on facetime or Zoom and have a virtual race to see who can collect all the items first, why not arrange a virtual playdate with some of your children's classmates,. or maybe get the grandparents, aunties, uncles and cousins involved, there really is no maximum amount of people that can take part, as long as you are in sight of the list of items to find.
And when you've all found everything on the list, why not settle down for a delicious Mickey Cookies and Cream Milkshake
Like this printable? Check out some of these other great options: