Feeling as though the family needs a boost of ideas to get through this phase of life? If so, you're not alone. If you've gone through all the activities and ideas in your brain, it's time to branch out and try something new.
Luckily, this free boredom buster ideas printable will jolt you and your family full of new ideas that you can easily do at home. What better way to get up and start moving than by doing all the fun ideas on this activity printable!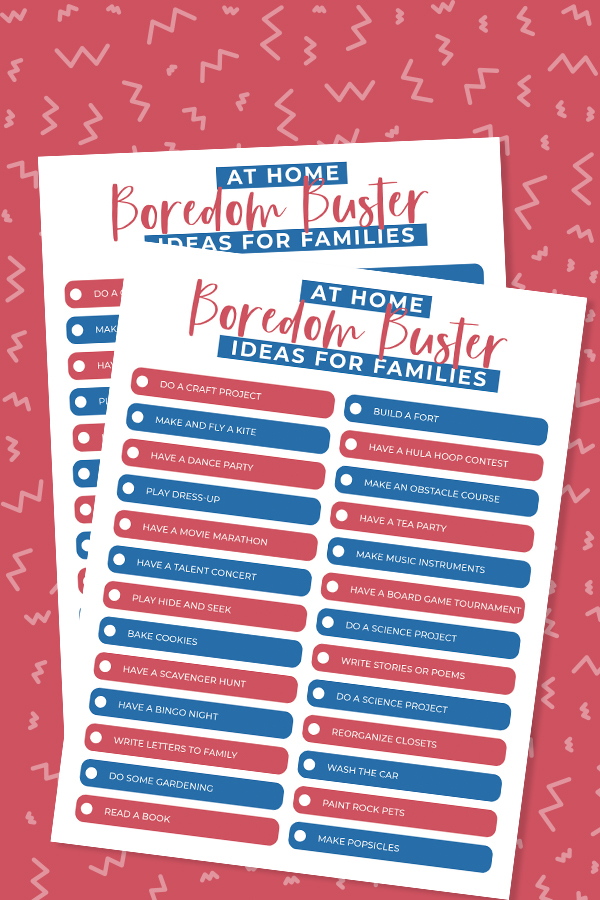 What causes someone to be bored?
There really isn't just one thing that causes people to be bored but rather a few different factors. Some people are bored because they're out of ideas while other people like to do things that are asked of them and respond better to activities that way. Either way, boredom can be overcome with just a few simple changes.
Boredom Buster Ideas for Families
Nobody really likes being bored. It's one of those words that mean that using the brain and when the brain is tired, the ideas just stop coming. It's no one's fault, it just happens. But when it does happen, it's time to overcome with some great boredom busters for kids and adults.
The awesome thing about this printable is that the ideas work for a wide variety of ages. All you need to do to take the first step is to print off the free printable to get started.
What are some simple boredom buster ideas to do indoors?
This is what this printable is all about! On this printable, you'll find:
Do a craft project
Make and fly a kite
Have a dance party
Play dress up
Have a movie marathon
Hold a talent concert
Play hide and seek
Have a scavenger hunt
And more! You'll have to print out the printable to see all the great indoor activities that you and your family can do.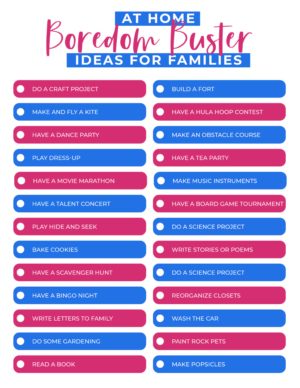 Don't forget though…this is just a guide. It's meant to stimulate your mind and give your brain ideas on other ways to have fun.
Make certain to add to these ideas and write other activities down as they pop into your brain. My hope for you and your family is that once you see some of these great activities, you'll think of even more to add to the list.
Other boredom buster ideas to consider
Just because I'm all about finding ways to keep the kids active, I'll throw out a few other ideas as well for ways to stay engaged and active.
Recycling and repurposing old items at home is a great way to think outside the box. (and using a cardboard box and turning it into something cool is always a good idea!)
Write letters to family and friends and become pen pals. What a simple way to bring a smile to someone's face! Everyone loves getting anything in the mail that isn't a bill so sending out letters and drawing pictures to mail is a way to spread kindness and love.
As you can tell, once the wheels in your mind start turning, the sky is the limit on things to do!
Teach Your Children About The World
Check out the Osmo Detective Agency for a great way for the children to learn about whats going on around them.
What other fun boredom buster activities will you be adding to the list?
Other family-friendly activities: