All kids love scavenger hunts, right? But what about trying something new and different this year? This Picture Book Scavenger Hunt is a great way to get the kids interested in books while also using their skills to hunt and find certain items on the pages as well. We LOVE to do this game when we're just needing something to help us wind down and pass the time. It's literally a hit every time we do this free scavenger hunt printable, and as its all picture book related, its perfect for the younger members of the family to join in with.
If you are considering more books for your children, you might want to consider a book rental service
And if you're looking for more scavenger hunt fun, don't forget to check out our Virtual Family Scavenger Hunt (+ one for kids only, too!) as well! So many chances to have unique activities easily!
Picture Book Scavenger Hunt
One of the biggest positives about this scavenger hunt is that it's great for a wide variety of ages. From early learners to older kids, everyone can help out with this game. (and if the kids can't quite read yet, no worries – just pair up and do it together!)
This printable scavenger hunt proves that you don't have to step a food outside your day at all to have a totally fun and epic hunt for items. All you have to do is pick up a book, or two and find the items listed on the pages.
Picture books are GREAT for this because the pages are literally just lined with bright and colorful pictures. And if you're a family that tends to get a bit competitive over things…this just might bring out that competitive spirit!
As long as everyone is having a good time, a little bit of friendly competition never hurt anyone.
How to use this Picture Book Scavenger Hunt
While there really aren't any hard set rules to this game, the main scavenger hunt boundaries will work just fine. As you can see from the image below, these printables are full of a bunch of items that you're going to want to find.
You don't have to go in order and you don't have to even use just one book if you don't want to. Gather up a handful of board books and see how fast you and your child can find the items.
Once they're found, mark them off the list and keep going! This can be a simple activity that the kids can do on their own or pair up for some super sleuth seeking fun.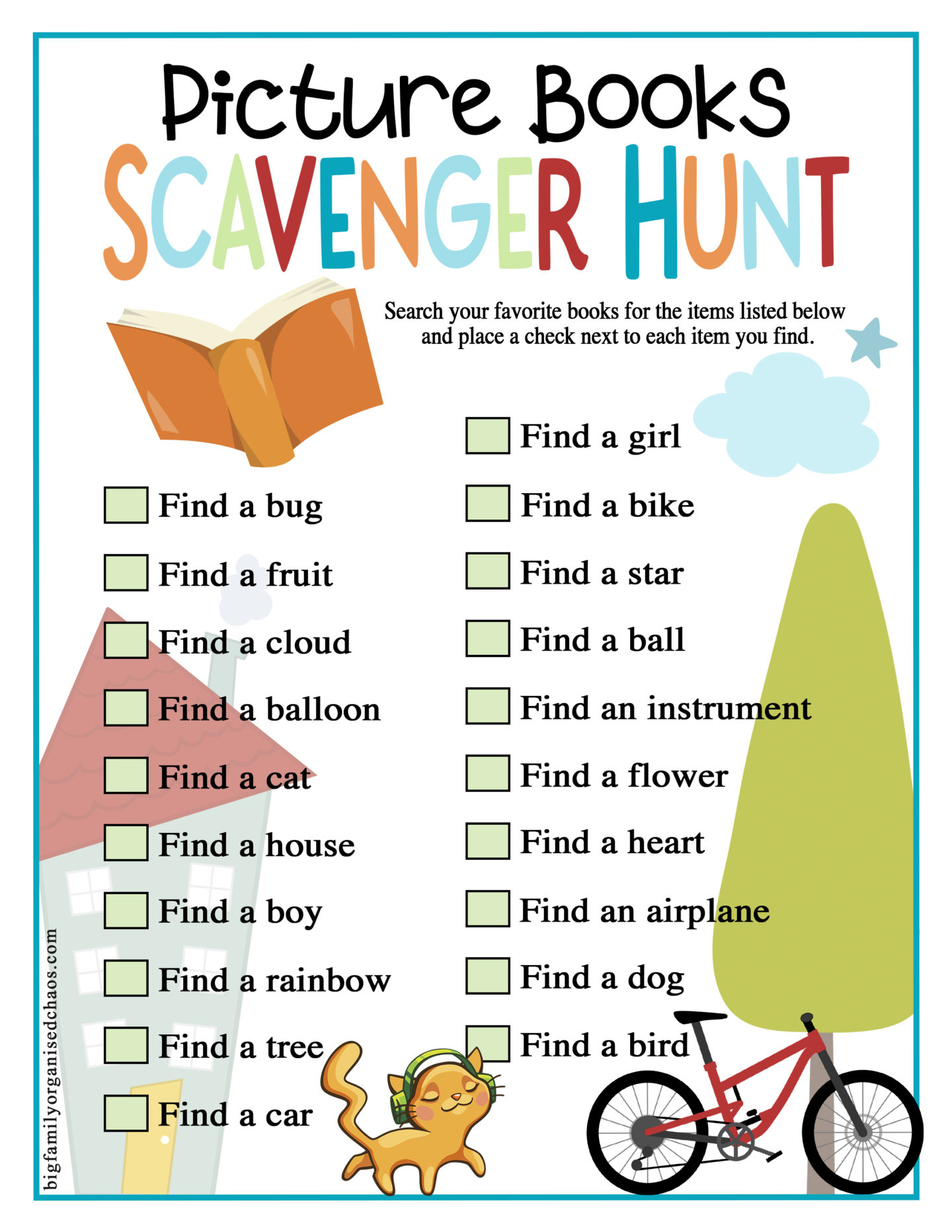 Don't forget to get your Picture Book Scavenger Hunt printable
All you have to do is click the link below to download and print. And just like that, the hunt for all the items listed in ON!
Make certain that everyone is given a chance to help find the items as this is a great way to work the brain and help those eyes be aware of what they need to be looking for! (and you can always add on to this list and make even more items to find, too!)
looking for more things to do with toddlers check out Educational Activities for Toddlers That Don't Require Prep Work
More Family Fun Activities