Are you looking for some simple but fun No Spend Family Activities? I think at this point in time, we all are! When it comes to finding fun things to do as a family that doesn't break the bank, sometimes it feels like there just aren't any good options or choices.
But honestly, that's just not true. There are a ton of amazing activities that don't cost a penny and I'm excited to share some of these simple ideas with each and every one of you. Your family will be laughing and having a blast, all while saving your money at the same time!
Below you'll find a free printable full of free family activities that will have you loving the frugal life again!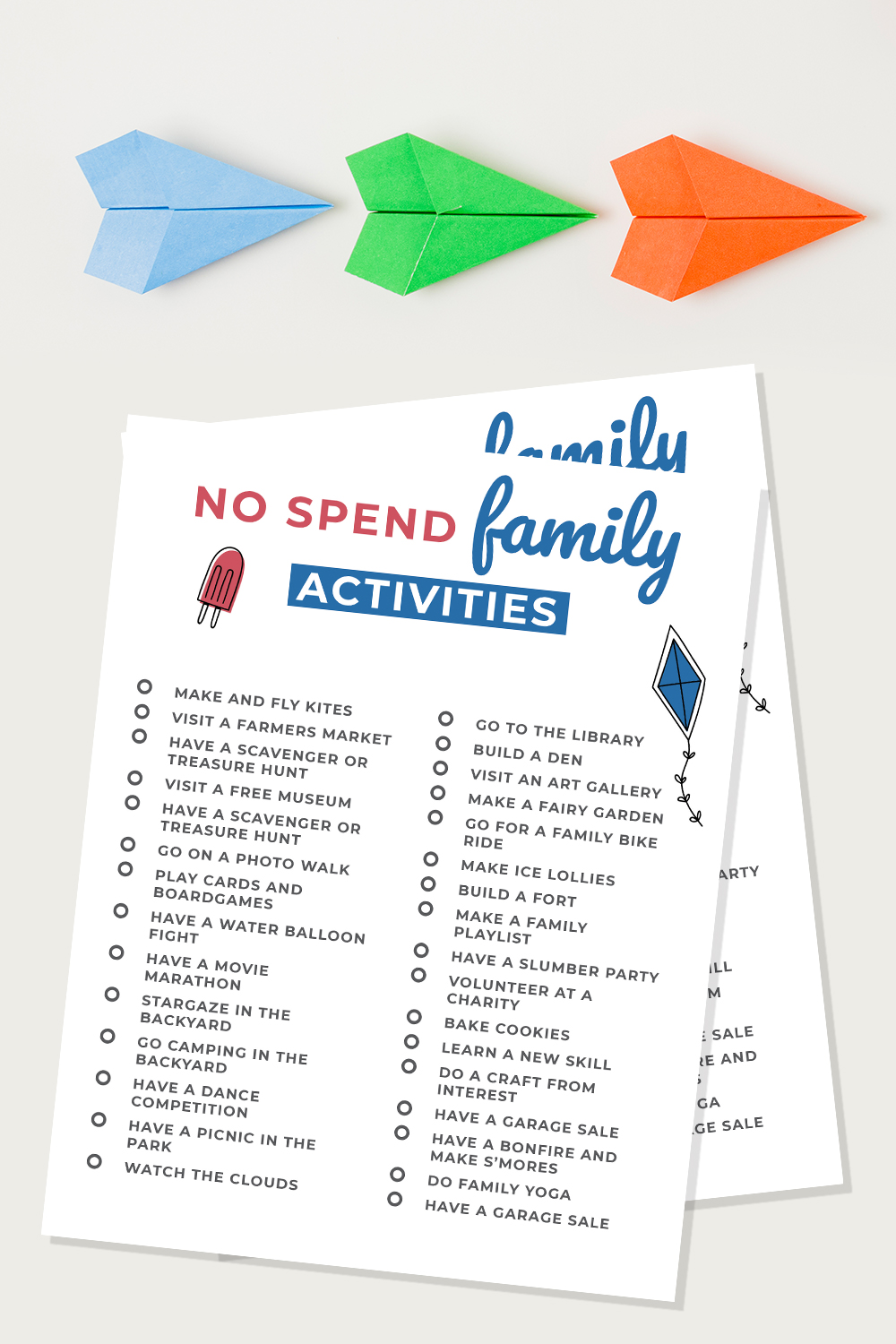 What can you do for fun without money?
Actually, quite a bit. I'm always amazed that most times, we end up having more fun as a family when we aren't spending a ton of money and are just actively doing fun things at home instead.
When it comes to free activities, it's always wise to stop and look around the house at what you have available to you. Once you do that, you can then formulate a plan to have fun without a cost.
Think baking, dancing, hiking, jogging, walking, and even just snuggling up to watch a movie.
No Spend Family Activities
Depending on where you're located, the space around you is just waiting to be explored as well. Mother Nature is always open too and she offers an abundance of free fun all times of the year.
Just in case you need a few simple and free ideas, here are some other fun options that won't cost you anything.
Fun and Free No Spend Family Activities
Stargazing in the backyard
Having a scavenger hunt
Hosting a slumber party
Go to the library
Camp in the backyard
Make s' mores
Do backyard yoga
Challenge each other to a dance competition
And these are just a few of the free activities for families to do. As you can tell, the sky is truly the limit when you're creative and use your imagination.
Make certain to check out these other Boredom Buster Ideas for Families!
All you need to do to get started is to print out the FREE No Spend Family Activities printable below!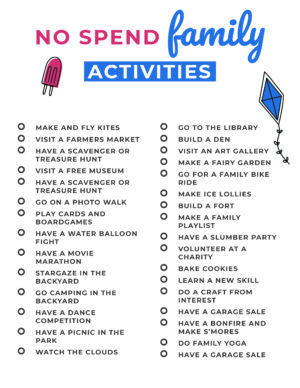 Use this free printable as a fun way to have fun without worrying about money. And remember, this is just a start! Think-tank together as a family and come up with even more fun ideas as well!
Even more free activities to consider
A few other free favourites to consider are jump roping challenges, hopscotching fun, potato sack races, or even a riveting board game or game of cards!
What are some other no spend family activities that your family is going to add to the list?
Like these free activities? Here are some more to check out: