Becoming a new parent to a beautiful baby is one of the most exciting and life-changing experiences that any person can go through. At this time, you will notice how much your loved ones truly are there for you whole-heartedly, with stunning offerings of time, assistance and gifts to celebrate this new arrival.
The most difficult part is finding the perfect gift for the occasion, the good news is, with so many new parents choosing to find out the sex of their child at the baby scan in order to begin interior décor and the purchasing of clothing, it's never been easier to get expectant parents the perfect gift.  Here, I have compiled a selection of some of the most stunning gifts that I received and have begun to give to other families upon the arrival of a new bundle of joy.
Traditional Yet Stunning
Although, in current lifestyle and décor trends most people seek a contemporary and modern approach, when it comes to gifts for a new born baby, sometimes there is no way to compete with some of the most traditional and stunning gifts, which have been given and cherished for generations. Such items as small precious bracelets, metallic money tins, hair care sets and even silver photo frames cannot be upstaged due to the sense of nostalgia and personal memory which can be evoked from receiving such items.
Items such as these over time become small heirlooms to be created, as these items which are not decomposable can be cherished for years to come and can bring out the same emotion every time they are came across.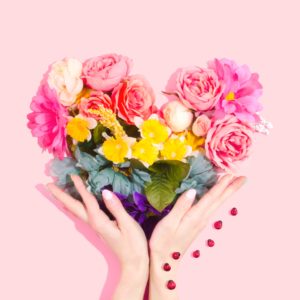 Floral Offerings
A favourite gift for all occasions has always been stunning floral offerings- from stunning bouquets of lilies to hat-boxes filled with the most stunning roses floral arrangements truly are a gift that no matter who receives them, will truly be appreciative and thankful.
New company Bloom Magic, offers both handtied bouquets as well as breath taking hatboxes. Not only do they offer great quality and deliver anywhere in the UK – what's more they have offered my readers a generous discount on your order using my exclusive discount code "Mandi10" at checkout, meaning you can get some blooms without blushing over the price.
The beauty of giving floral blooms as a gift is whilst expressing your warm thoughts, they truly brighten a room, without the risk of giving something that does not fit to the new parents' lifestyle or it being a duplicate gift.
Capture the Moment
In a world with technology at our fingertips and a memory being shared with the world in a heartbeat, a perfect gift would be a more physical way to capture and encapsulate one of the most important and life changing moments of those special people's lives.
One way that this memory can be kept for a lifetime is through impressions being taken. This can be anything from the new born bundle of joy's hand or foot prints being taken to casts of parent and baby hands together (although this should be done at a slightly older age). Impressions kits are readily available from a huge variety of retailers and truly make an unforgettable gift which will last a lifetime and make a stunning addition in your home.
This is a collaborative post