Are you looking for a simple way to get organised at home? Why not use this free printable full-year planner to help? It can be a fast and simple way to organise your schedule and the family schedule at the same time!
Be certain to check out our Meal Planner & Shopping List as well for even more organizsational tips and tricks.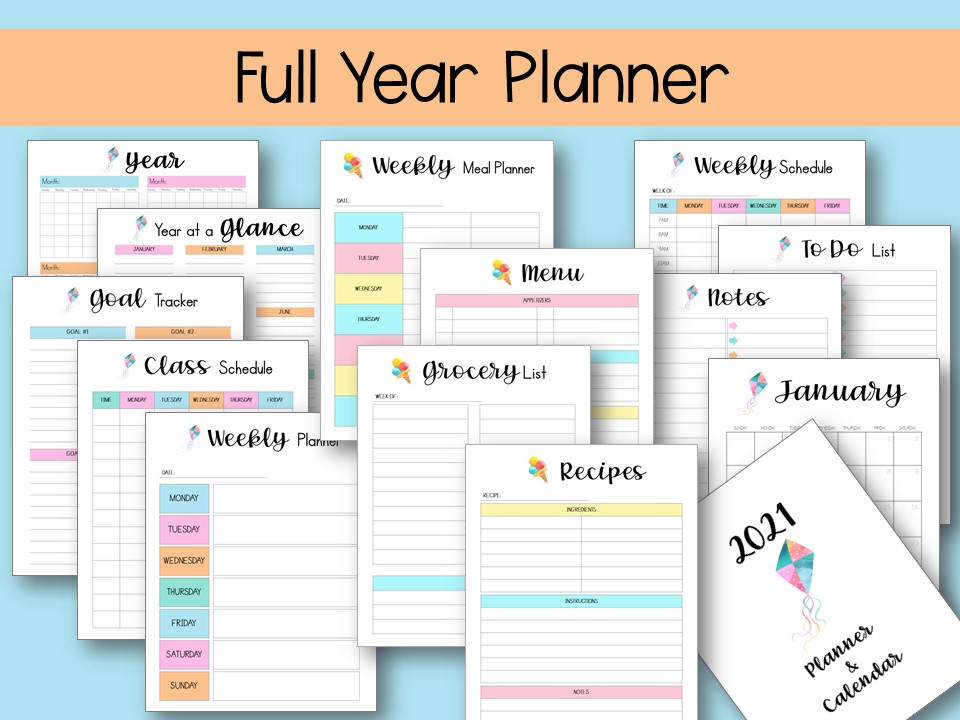 Full Year Planner To Get Organised At Home
Let's be real. Getting organised doesn't seem as though it's that hard to do but STAYING organised is what is difficult. I've been there a million times and still struggle with this concept.
What I've found is that by having a physical planner, I tend to keep better track of everything that I need to do. I still miss a few things here and there but for the most part, I'm able to be as organised as possible with everything that seems to be coming at me a million times per minute.
The Importance of Staying Organised
There's just something about staying organised and on top of things that can make everyone feel better. I've found that when I can balance it all, it clears my mind a bit and lets me focus on other things. If you're looking for a boost to help get your days better organised, this planner really can help. It's so much more than a piece of paper that you just write things down on! It's split up into usable sections that you can easily do!
What's included in this Full Year Planner
You'll find so many useful tools in this printable planner. Some of the options include:
Month by month breakdown
Class schedule
Recipes
Weekly meal plan
Weekly schedule
Year at a glance
To-do list
Notes
Goal Tracker
and more! As you can see, there is something for everyone to be able to use in this printable. You can even use this for other years as well since it's easy to fill in the dates and year!
Grab your FREE Yearly Printable
All you literally have to do is press print and then start using this planner. You can even print out more than one for other people in the family. Starting kids out at a young age and teaching them how to plan and organise is never a bad idea!
It's time to take charge of your schedule and get it all planned out!
More Fun Printables