It's the new year and you know what that means? It's time to start thinking about purging and decluttering the home! But what do you do when that just doesn't sound like it's all that much fun? Why not make a game out of it with this family fun Declutter Bingo printable?
You can easily clear out the "things" in your home without feeling as though you're stressing yourself out. And when you make it into a fun Bingo game, you're just setting yourself up to feel happy to have a fun reward one you Bingo as well!
Be certain to check out our tips on How to get kids to declutter as well. Because even if they tell you they can't…they can totally help you declutter the house!
Unsure if you should declutter, then check out How To declutter to reduce your anxiety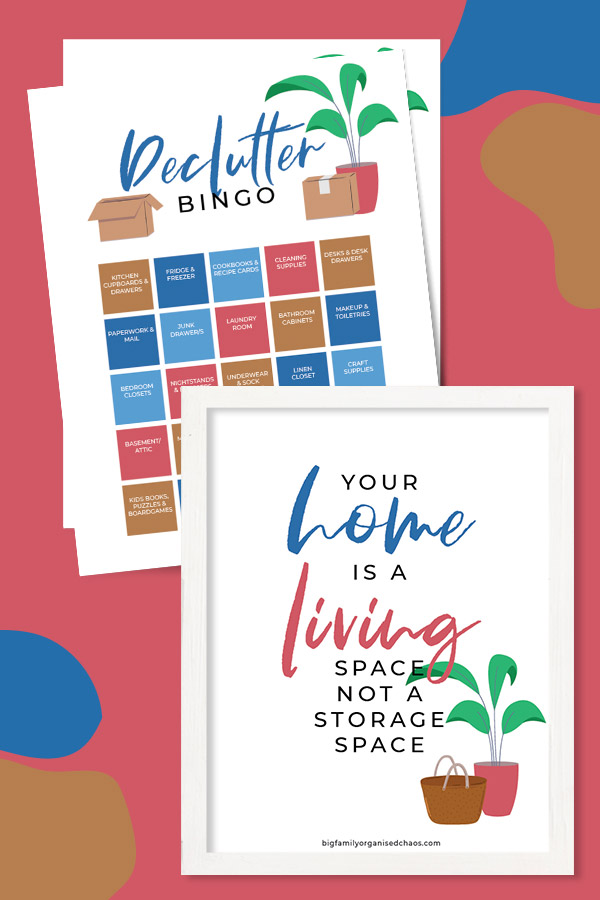 Decluttering Bingo
Let's talk about decluttering. It's one of those things that people love and hate. There's really no middle ground when it comes to decluttering and that's often why people are so hesitant about making it happen.
But when you stop and take a look at it in a different light, you might be able to budge that thought process a bit and starting putting your decluttering wants and needs in motion.
Because let's be honest…it's no fun feeling bogged down by things in your home, is it? Not only that but when your space is cluttered, so is your mind. Why put yourself through the stress of having a cluttered home or space when you'll be able to function so much better in a clean and clear one?
The time is now to start taking the steps to clear out the rooms in your home and this Declutter Bingo printable is exactly what you need.
(And you even get a really cool printable that you can frame and hang up in your newly decluttered space as a reminder of your hard work and efforts!)
How does declutter Bingo work?
It really works just like a regular Bingo game but there are cleaning and purging involved. Oh, and there's no free space, either!
Start in an area that you know is going to be a win for you to declutter and then mark off that square when done. There might be areas of your home that you don't want to tackle, but without doing them, you might not be able to make that Bingo happen…and if you're a competitive person like me, this is where it gets fun! (I'm all about making multiple Bingos on the board so I tend to complete it all!)
Make certain to set yourself up a reward for completing the Bingo (not a material item that is going to clutter but a fun outing or activity) and have the family join in on the fun, too. Everyone can easily have their own declutter Bingo board to use and help make the home less cluttered.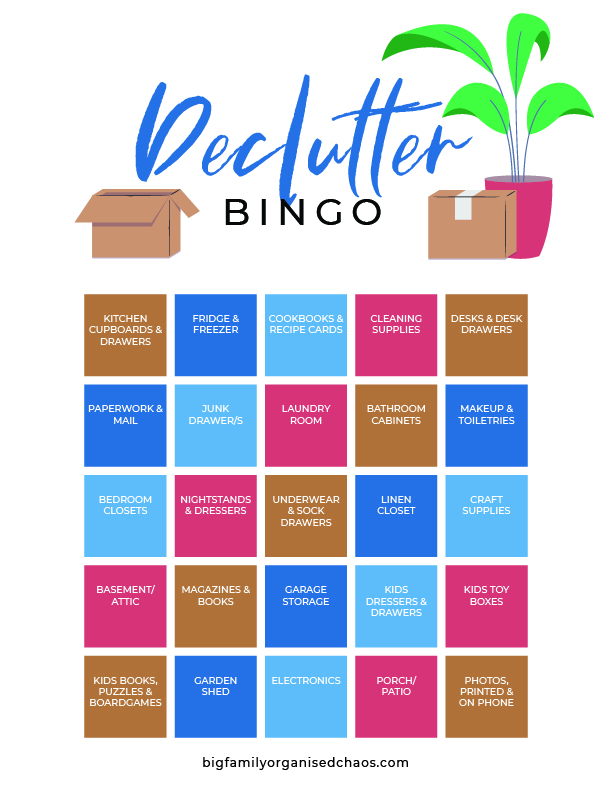 Are you ready to get your Declutter Bingo printable AND your free wall hanging? Click the link below to download now!
Have fun creating a clean and clear space with ease! You'll love how easily this game helps you knock out the specific areas in your home fast!
More Decluttering Tips