Calling all LEGO fans! This February LEGO challenge is for you! The month of February is the perfect time to start creating and using your imaginations and creative minds! You'll love being challenged to create a new LEGO structure each and every day…Are you up to the LEGO challenge?
Be certain to check out our tips on how to Make Your Children's Room a Perfect Place for Learning and Playing. (and a great place for LEGO creations to be made, too!)
Not got enough Lego Bricks for the challenge, CLICK HERE to upgrade your collection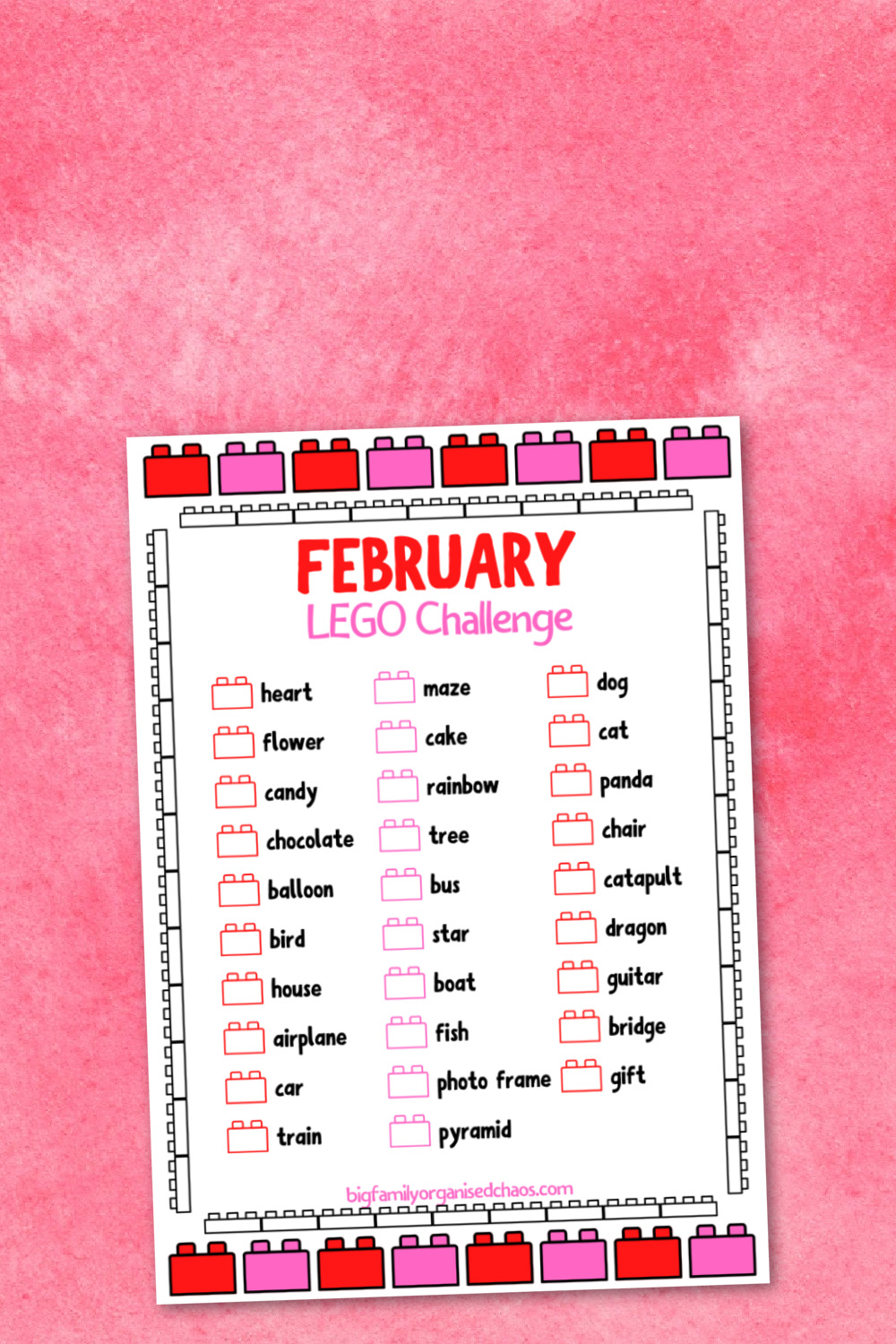 February LEGO Challenge
In our house, we love playing with LEGOS, and this is true from the kids all the way up to the adults. I love that they help you use your hands and your mind to create but I don't love that they're little magnet attractors to my feet.
Can we all just agree that stepping on a LEGO in the middle of the night is LITERALLY the worst?
But besides that…we love LEGOS. And we use them quite often to build. I'm always amazed at what the kids can create and seemingly do so with ease.
What I love about this LEGO challenge is that it helps give ideas of what to make daily for the entire month of February. Not only does this challenge you but it also helps you out if you feel like you're in a LEGO-making rut.

How does a LEGO challenge work?
There are really no rules to this challenge, which is great because who needs rules when you're supposed to be freely creating, right?
BUT what I've found does work is picking a fun place to start, creating it, and then marking it off the list. This lets everyone pick and choose what they want to do and gets them excited to start as well.
Make certain that you take a picture of the LEGO creation or there is no proof that it happened! And at the end of the month, you and the kids will have created so many cool things that it's going to be really quite amazing.
It's also super fun to see how each creation is different from one another as well. My cat never looks like anyone else's cat and I just love to see how our minds and hands work separately.
Are you ready to print off this fun LEGO printable challenge to get started? The time is now to create some really cool LEGO art!
Make certain to share with me some of your creations! I can't wait to see them all!
More Family Fun Activities