The children love trying out new family games, particularly if they are suitable for different ages, and an added bonus is if they can be played outside, so when we were asked if we would like to test Wobbly Worm from Spinmaster, we couldn't wait!
Here is what the description says:
Can you hoop the loopy worm? Wobbles the Worm has fallen out of the apple tree and he's all dizzy! As Wobbles bobs and spins around, players try to get their three hoops over his head. Get rid of all your hoops first to win! Wobbly Worm is get-up-and-move-around fun for preschoolers!
It's twisting, turning fun! Try to hoop the loopy worm with all your rings to win.

Wobbly Worm grows with you! Add segments for more motion as you get older. Wobbly Worm stands 3 feet tall at its tallest!

Wobbly Worm is for 2-3 players ages 3+ and requires 2 C batteries (not included)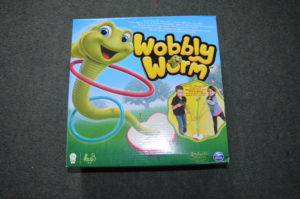 The batteries go in two separate compartments, you will need quite a long, thin phillips screwdriver to put the batteries in.
Three sets of rings are included, each with three different sizes, to increase or decrease the difficulty, you can also add as many of the green tubes as you would like, then place the worm head on top, Viggo aged 3 was able to get the large hoop on the worm with just one green tube, all the way up to the adults who would sometimes be able to get the larger hoops on at full height!
So here we go in stages…
1 green tube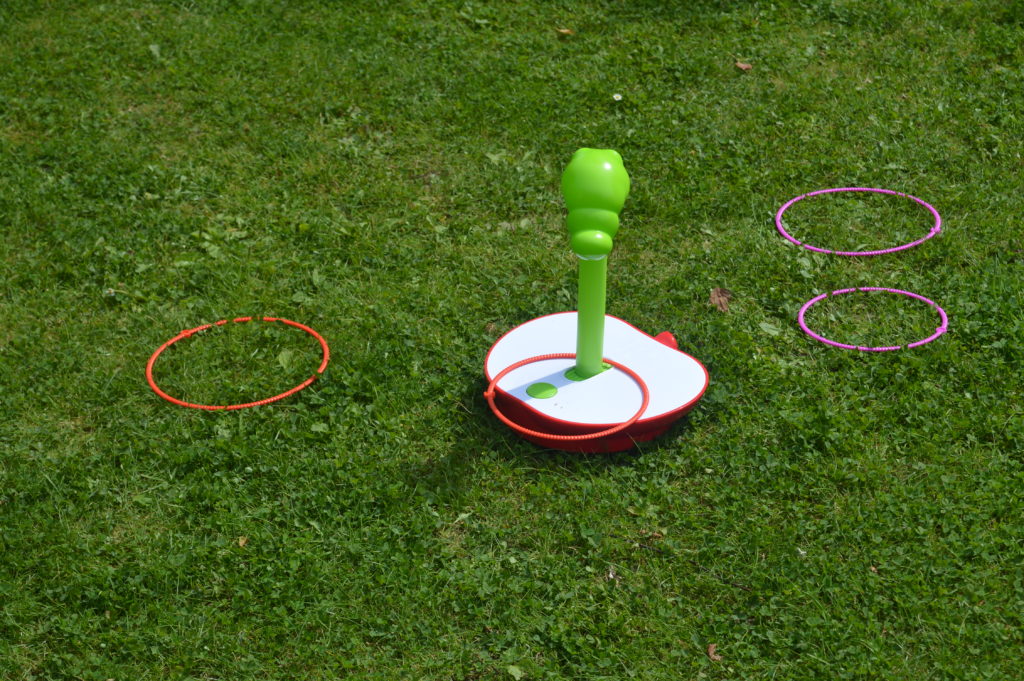 2 High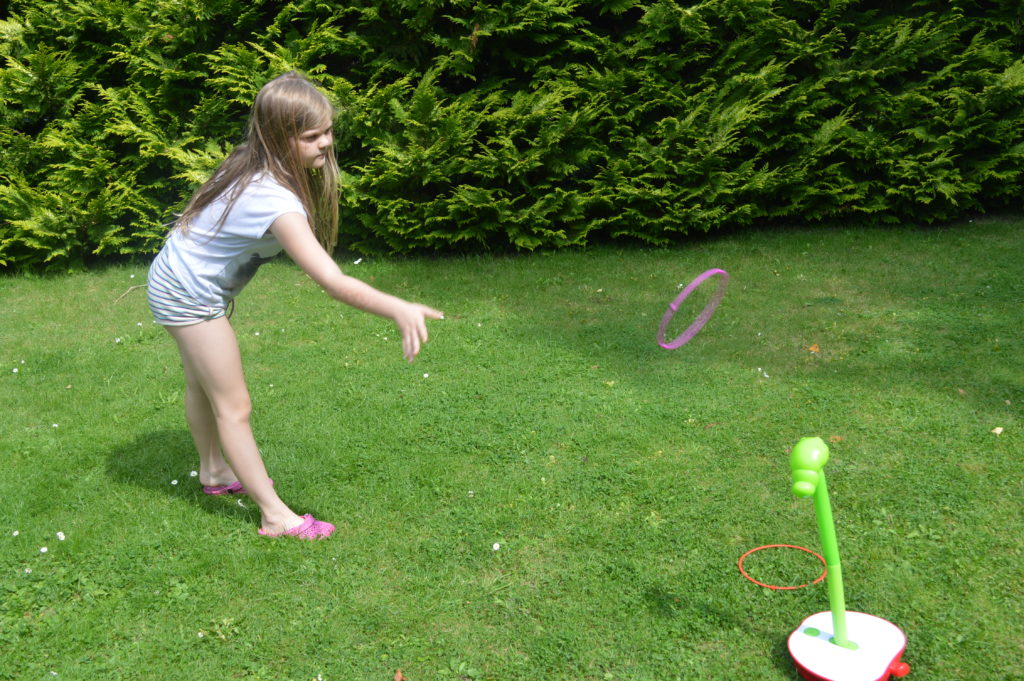 3 high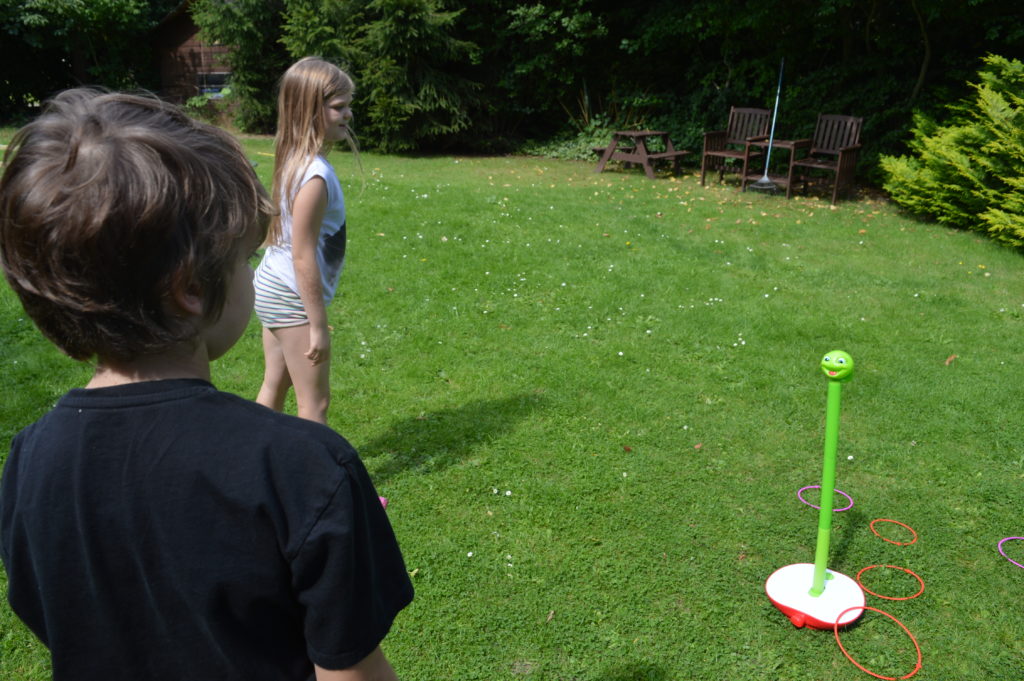 and finally at the full 90cm height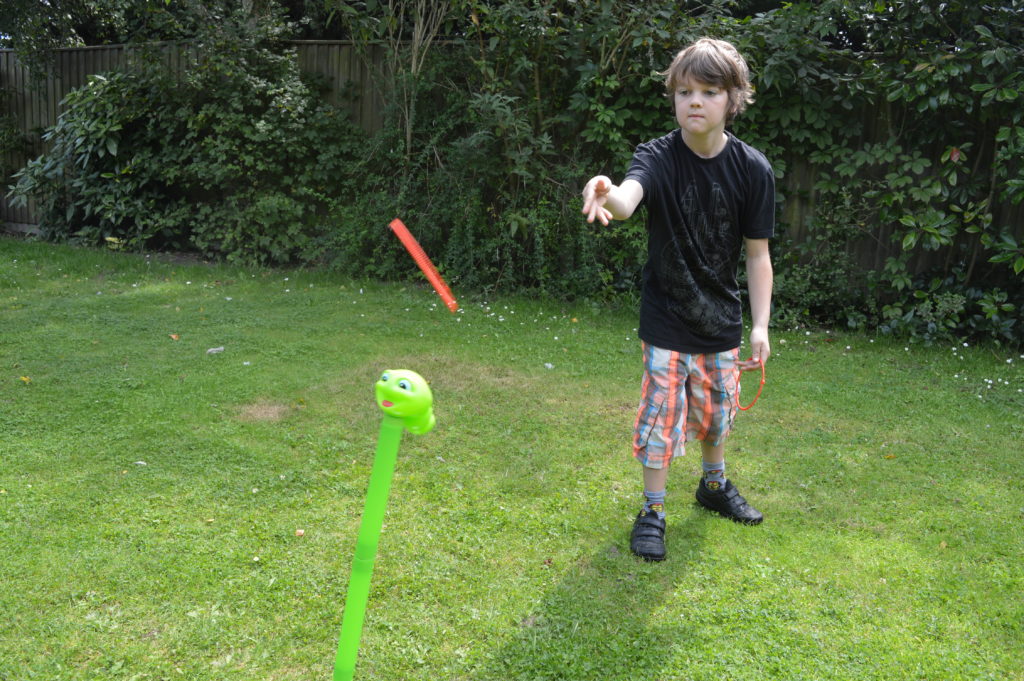 Our thoughts:
The children LOVED it, a very simple game for them to set up themselves, it can obviously be played indoors too, but at the moment any excuse to get them outside in the fresh air (when we have good weather) .
Priced at £19.99 available from Amazon this is a great family game, the beauty of it is that every member of the family can play it, Viggo aged 3 loved it as much as Kaide aged 12, they did get quite competitive, the fact that you can change the worm height to suit who is playing was perfect, definitely a game I would recommend for a family with various age ranges.