Every bra fits a little differently. You may find that your bra size in some brands or styles has a band that is too tight or too loose or cups that either gap or are uncomfortably small.
Understanding cup volume and the ratio between band and cup sizes can make it easier to find bras with the perfect fit.
What You Should Know About Bra Equivalent Sizes
Equivalent or sister bra sizes have the same cup volume. No matter your bra size, bras with smaller bands and larger cups or larger cups and smaller bands are equivalent sizes.
For instance, the closest equivalent sizes for a 36C are 34D and 38B. A 36G bra size equivalent would be a 34H or a 38F.
There are more than two equivalent sizes for bras. Most of the time, you can get the best fit from the closest sister sizes to your bra size.
Technically speaking, the equivalent sizes for a 36C range from 30F to 40A. All of these equivalent or sister sizes have the same cup volume.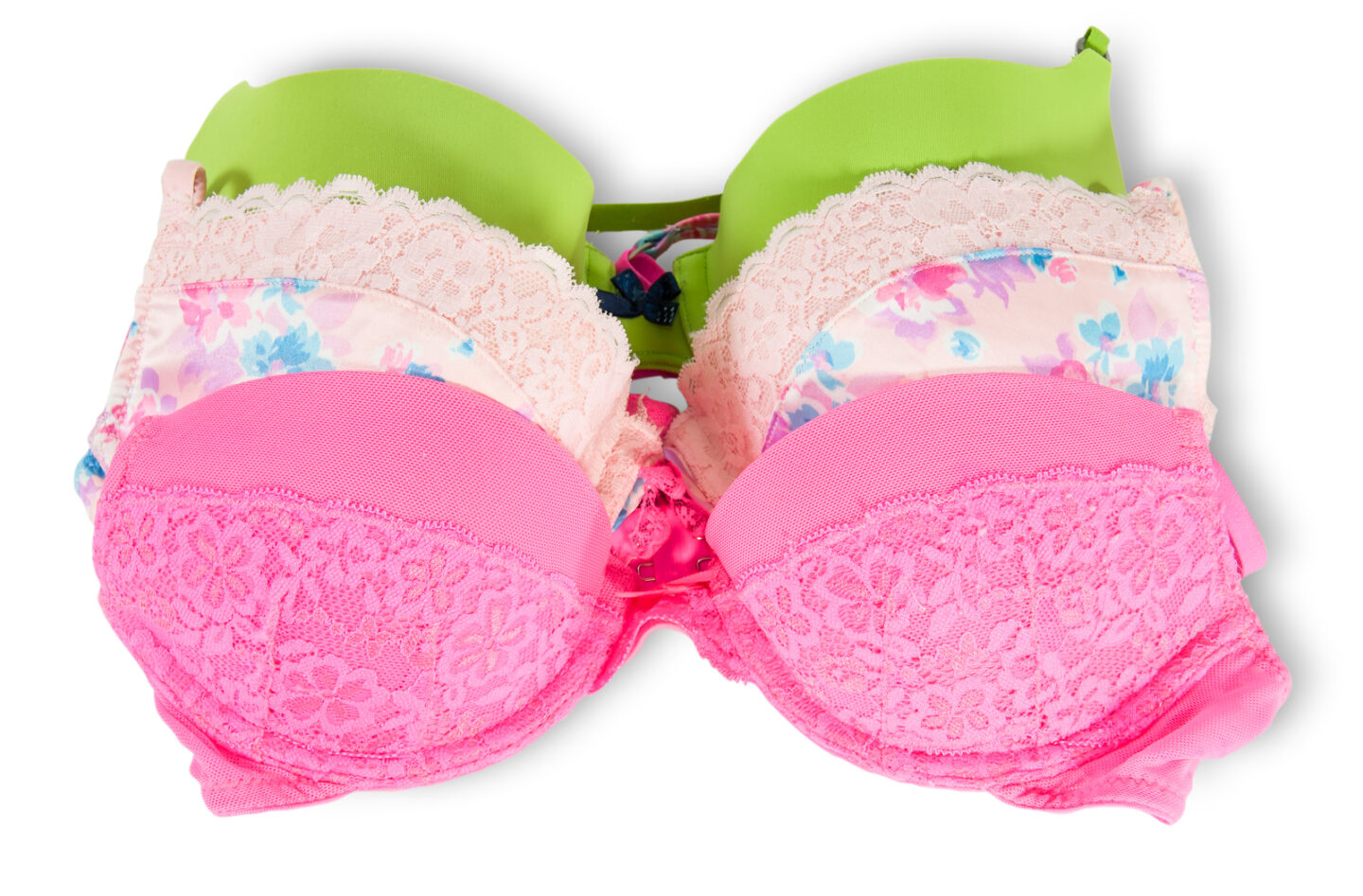 How To Choose the Right Bra Size
To determine your bra size, you will need to take measurements. Use a soft measuring tape or a length of non-elastic string to measure around your ribcage. Next, measure around the fullest part of your bust.
You may prefer to wear a bra while taking these measurements. In addition to knowing where to measure your body for a bra, you should also know how to measure bra size. 
Your band size corresponds to the first measurement that you take under your breasts. Add 2 inches to an even measurement or 3 inches to an odd measurement for a comfortable fit.
Subtract this number from the second measurement around your bust to determine your cup size. A 1-inch difference indicates an A cup, 2 inches correspond to a B cup, 3 inches are a C cup and so on.
If you are between cup sizes, try a bra style that has options for half cup sizes.
When To Try Equivalent Sizes of Bras
If the band of your bra is too tight but the cups fit, you might want to try the closest equivalent size with a larger band.
For instance, if your size is a 36D, try a 38C to see if the band is more comfortable. In general, sister sizes are not as helpful for gaping cups.
If your cup size is correct, you may get a better fit from a different bra style. If full coverage bra cups gap, try t-shirt or plunge bras.
Based on the way a bra fits, you may prefer to try on the same style in an equivalent size with a larger band size and a smaller cup size or with a smaller band size and a larger cup size.
Sister sizes have different band sizes with the same cup volume. You can get the perfect fit by selecting the best bra style for your body in the right band and cup size.