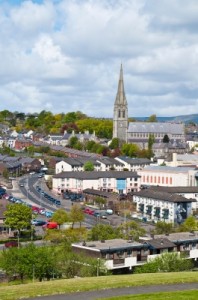 If you're planning on travelling to Northern Ireland over the coming weeks, a city that should definitely be added to your itinerary is Derry. Northern Ireland has been through a lot of turmoil over the years, but what you'll find nowadays is a beautiful country that is rich in culture, entertainment and natural beauty. Base yourself at the local Travelodge in Derry and take a look at these five fabulous things that you can do during your visit.
Walk the city walls and absorb some of the history and heritage of the city. Walls have ears, and have seen and heard a lot since they were built back in the 17th century. Spot the restored cannon displayed around the walls, with Roaring Meg situated on the double bastion.
The Museum of Free Derry can be found in the Bogside district, in the heart of the 'Troubles' tourist route and is home to many artefacts from Bloody Sunday and its aftermath. The humility and simplicity of the museum is highly regarded.
The Tower Museum helps to explain more about Northern Ireland's turbulent past – a must for anyone who would like to gain further insight.
Catch a performance at the Millennium Forum. Lee Evans and the Beach Boys are there in June, but if you can hold off until September, you can see the hit musical, Hairspray.
Roam the Causeway, which, if folklore is correct, was built by the giant, Finn MacCool, as a link to Scotland. Nowadays, it's a World Heritage Site and Area of Outstanding Natural Beauty, and a must, come rain or shine.
Designated as the first UK City of Culture last year, Derry is arguably one of the top cities to visit in Europe. See for yourself with a visit to this stunning city – you'll soon understand why it's more recently been coined as 'legenderry'!
Brought to you in association with Travelodge