Having a large family it's important to find kitchen appliances that are up to the job and can cater for our large brood. One brand that I can always rely on to satisfy my hungry brood is Grundig, it was recommended to me by my nan, who is originally from Germany, with their amazing built in range, which has a fantastic 5 year guarantee across all its appliances, so always gives peace of mind. You may think that having a larger than average family, food waste would be next to nothing, but actually it can be the same as everyone's else's and sometimes on a grander scale, over the last 21 years of having children I have certainly picked up a few tips along the way, so even if you have a smaller family you may find these suggestions helpful.

So here are three ways to avoid food waste in a large family.
If the children tell you they do not like a particular food, chances are that they actually do not like it! I'm not talking about them suddenly declaring they don't eat a favourite meal, as that could just be them under the weather or testing boundaries, im talking about a brand new food that you give them to try and they immediately tell you they don't like it, yes its good to try new foods but there's no point continually cooking a food if they're not going to eat it, because it will just go to waste! Likewise if they are a headstrong teenager and announce they are now a vegetarian, don't serve them a plate of meat, as it will just get wasted.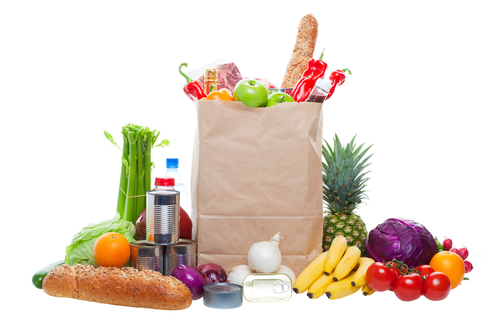 Before you go shopping, work out what meals you will be cooking that week and what exact ingredients you will need, don't over buy, and check the use by dates on the fresh ingredients, tailor your weekly meal plan to coincide with dates in food, if the mince has a use by date towards the beginning of the week and you were planning a Spaghetti Bolognese on Thursday, swap them around.
Don't Go Silly With The Yellow Stickers
We all see the social media posts and youtube videos about shopping hauls and reduced food bargains, but ask yourself do you really need 10 packets of brussels sprouts! Whilst short dated, reduced products can save you money, it just needs to be bought sensibly, if you are going to attempt to fight your way to the reduced section, you might as well make sure its worth it!

Avoid Food Waste
Food Waste is now being discussed and acted upon, which is great. Kitchen Appliance manufacturer Grundig have gone one step further and have their Respect Food campaign ft. Massimo Bottura. Grundig believes people should enjoy good food and respect it and has a Global partnership with Food for Soul, based on their shared values:
• Enjoying the good life through good food
• Premium design and quality appeal
• Reducing waste, sustainability and solidarity
It is so important for families to teach their children about areas such as food waste, climate change, pollution, because they are the parents of the future, and with such a large family, we are already targets for the over population tag, so I am very conscious about these areas. My two favourite products from the Grundig Range are the Washer Dryer, the tub is partly made from recycled plastic bottles, the wash cycles are vast and have gentle wash programmes to ensure the childrens clothes stay in excellent condition, and can hopefully be passed down to their younger siblings and my most used product is the dishwasher (especially at weekends and during the summer holidays) I love the eco motor, that is just so quiet, its energy efficient and has a 10 year guarantee, with an A++energy rating, its saving energy and costing me less, and the quick wash setting means my entire load is washed in under an hour, and with nine people that's just long enough for them to eat their dinner and then the teens can unstack it!
this is a collaborative post