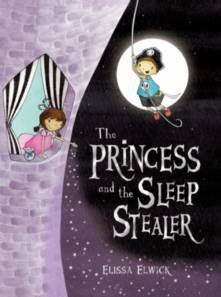 A magical tale of fantasy and adventure . . .
sweet dreams guaranteed!
Princess Luna is the Sleep Keeper of the little town of
Papier
. Every night, she leans out of her castle window and sprinkles sleepy dust down to the houses below, sending everyone gently to sleep until morning. But disaster strikes when the dust disappears! Where has it gone? And with time rapidly running out, will the princess get it back before bedtime?
With sleep-stealing pirates, a friendly dragon and a heroic princess, not to mention a moonlit race over sugar mountains and through liquorice trees, this book has all the ingredients for the perfect bedtime story!
Elissa Elwick
graduated from the Arts Institute at
Bournemouth
in 2008 with a pencil firmly fixed in her right-hand and she hasn't stopped drawing since. In addition to her illustration work, Elissa makes greeting cards and plush toys and also runs illustration workshops at schools. When not thinking up stories or inventing new characters, she's usually making a cup of tea, buying yet another book or gluing googly eyes onto inanimate objects. Elissa lives in
London
and

THE PRINCESS AND THE SLEEP STEALER

is her first picture book.
When we first received this book to review, I was a little apprehensive, Eowyn is at the age where she enjoys `happy' stories, and I was worried that someone doing something bad would not go down very well.
We have certain episodes of television programmes that feature witches or naughty goblins that she immediately turns off, so I read the story myself first just to make sure.
However, it did not prove to be a problem, the illustrations are fun and there are some very funny characters called Bobwobs and the three zees, added to that liquorice trees and sugar mountains and Eowyn was transfixed.
A very unique story that made a change from the traditional, and without giving too much away, it does have a happy ending!

The book is not too long and is a perfect bedtime story, that will make the reader feel very sleepy and somewhere in the distance maybe Princess Luna will be sprinkling her sleepy dust…