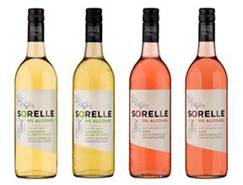 As you will all probably know I am not really a drinker, many years have been spent either pregnant or breastfeeding, therefore alcohol has been very far down on my list of things to consume.
However, when we have people over for a meal, I always feel a little self-coscious that they are all sat with a large glass of wine and I have a glass of coke or lemonade, but I think I may have found an alternative!
Sorelle, a brand new 0% wine-style drink that is launching in the UK – at only 24 calories per glass, it's the perfect drink for girls on the go, busy mums and health conscious people.
Coming in two flavours, a Sauvignon Blanc and a Rosé, Sorelle is a great alternative for those looking for an authentic wine taste without the alcohol.
I was more than willing to give it a taste….
So, at the weekend, I actually got all six children to bed reasonably early by their standards and I sat down for a nice chilled glass of Sorelle Rosé, and I have to say, it was rather tasty, there was none of the usual bitter taste I find with normal wine, so i'm guessing the part of the wine I dislike is the actual alcohol!!
I feel that it is reasonably priced and would make a nice alternative to having a glass of fizzy.
I love the fact that it is only 24 calories per glass too, I shall definitely be having a bottle of this on standby for friends coming over, it would also be great to take with you to certain events, like a baby shower or a night in with the girls, if there are any that can't drink.
Sorelle can be found in the wine aisle priced at £3.49 at Tesco stores across the UK.