When Xene was born over 14 years ago, we didn't have a digital camera, so we used to send the film off and have lots of photos sent back, as time went on and we added more children to the Clan, we upgraded to the didgital camera and now my entire computer is filled with photos that I have not gotten around to actually printing out!!
We moved into our house five years ago, as a rental, six months later we were given the option to buy the house, which we did, which meant that all of the decor was left including pictures, so when I looked around our house I was extremely embarrased to realise that I had actually just left the pictures up and hadn't replaced them with any of our own!!
Another problem we seem to face is actually having a photograph of all eight of us together, so when I was given the opportunity to review a canvas from Hello Canvas I was extremely excited and knew that I wanted one of all of us, luckily my sister had her wedding blessed last month and we actually had a photo taken of us all looking quite nice, so that is the picture I chose.
I sent the photo via email and was amazed that the canvas arrived two days later, what a fantastic service, the canvas is 20″ x 28″ and is wonderful.
When I took a look at the website I was shocked at the cost, for such a large canvas it is only £39, which I think is really great value for money. The next time I decide to add some family pictures around the house I won't hesitate to order from Hello Canvas.
The result….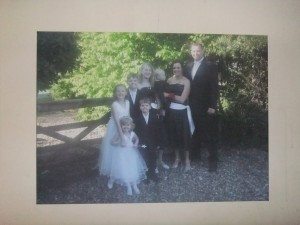 It really is hard to believe that this quality can be reproduced on a Canvas.