Flexispot Desk Bike Review
I have worked from home for quite a long time, but I used to spend most of my time running around taking care of small children whilst juggling answering emails and writing blog posts on the rare occasion they actually napped!
These days, none of the children need me to do things for them, and they are either working or in education, which means I get an awful lot more work done, but I spend much more time sitting down and not moving around!
This has lead to quite a bit of weight gain! So when Flexispot got in contact and asked if i'd like to review their Flexispot Desk Bike, I knew it was something i'd like to give a try.
Flexispot Desk bike helps you keep productive. Stay healthy, active, and burn more calories while you perform otherwise sedentary task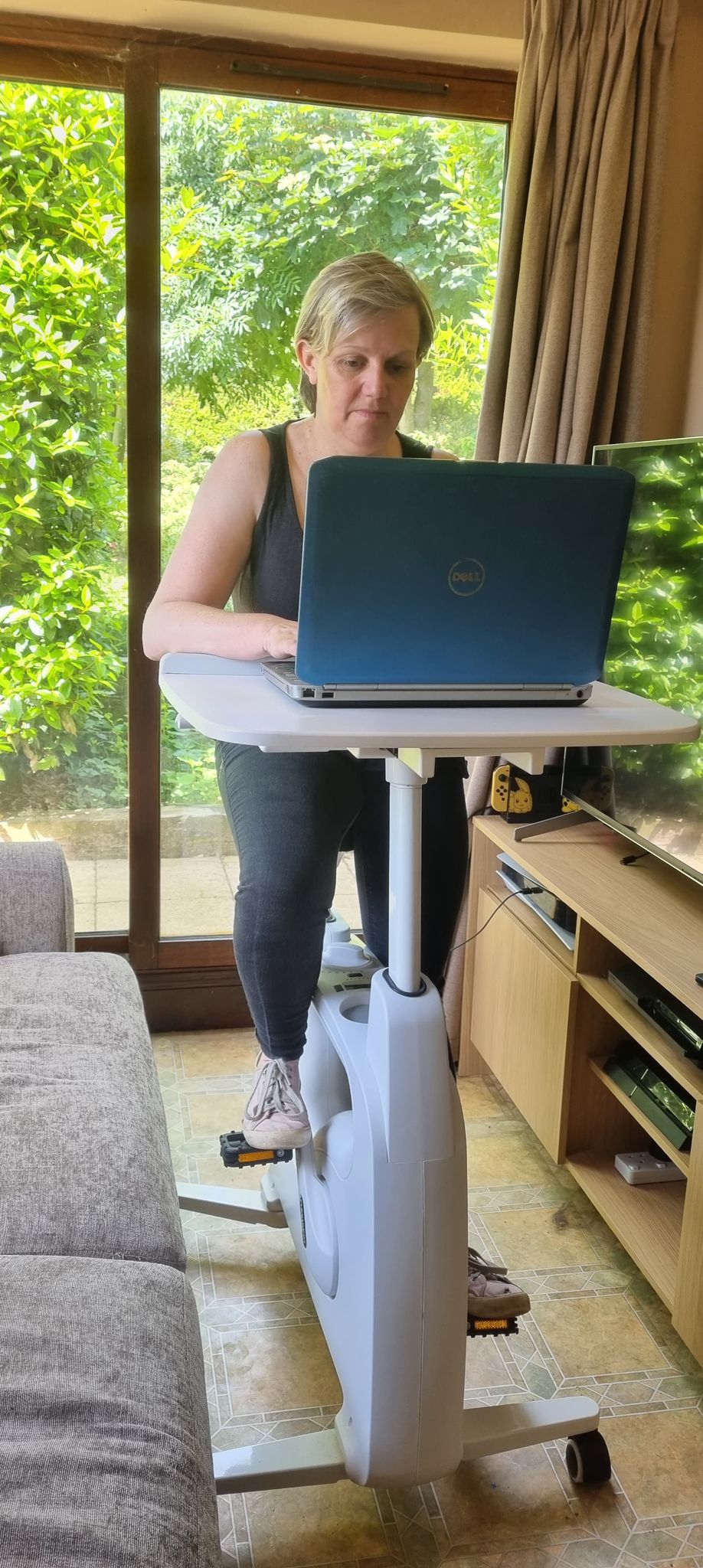 Flexispot Desk Bike Delivery and Assembly
The Desk bike is sent in two separate packages, the larger package contains the actual bike part and a smaller one sent separately contains the desk part.
The bike part is quite a heavy product, but it is well packaged and it was very easy to put together, you literally pulled out the four legs that have the wheels attached.
You then click the desktop into place and screw it in, using the bolt and the allen key (both included) to hold it in place.
There are adjustments on both sides of the desk one is to change the height of the desk and the other is to adjust how far it sits away from you when sitting on the bike.
The Bike seat is easy to adjust up and down, and with nine people in the house, it gets adjusted quite often!
There is a non slip pad included to place in the cup holder.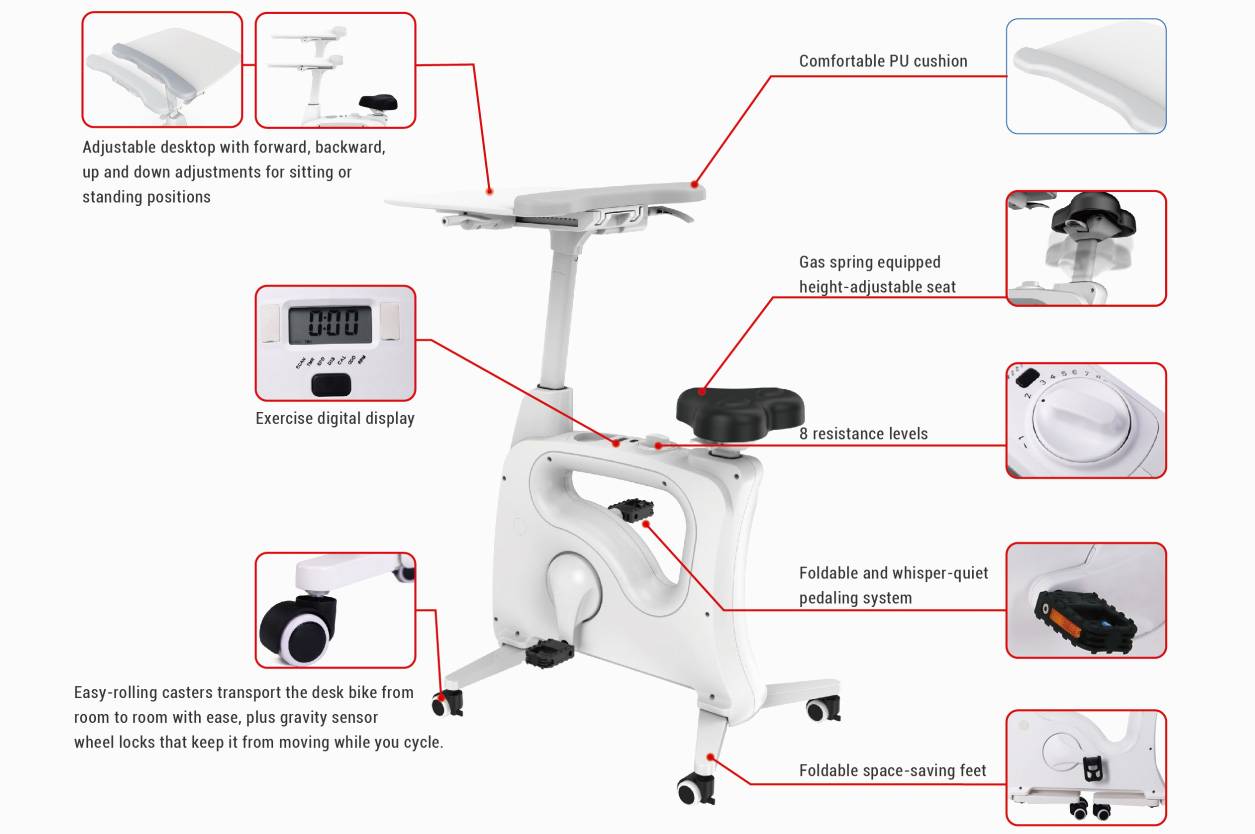 Pneumatic Adjustment Lever – allows you to easily adjust the seat to your desired height
Integrated Digital Display – Shows readouts for workout time, calories burned & Speed
8 Resistance Levels – Go from light activity to a more robust workout with a flick of your wrist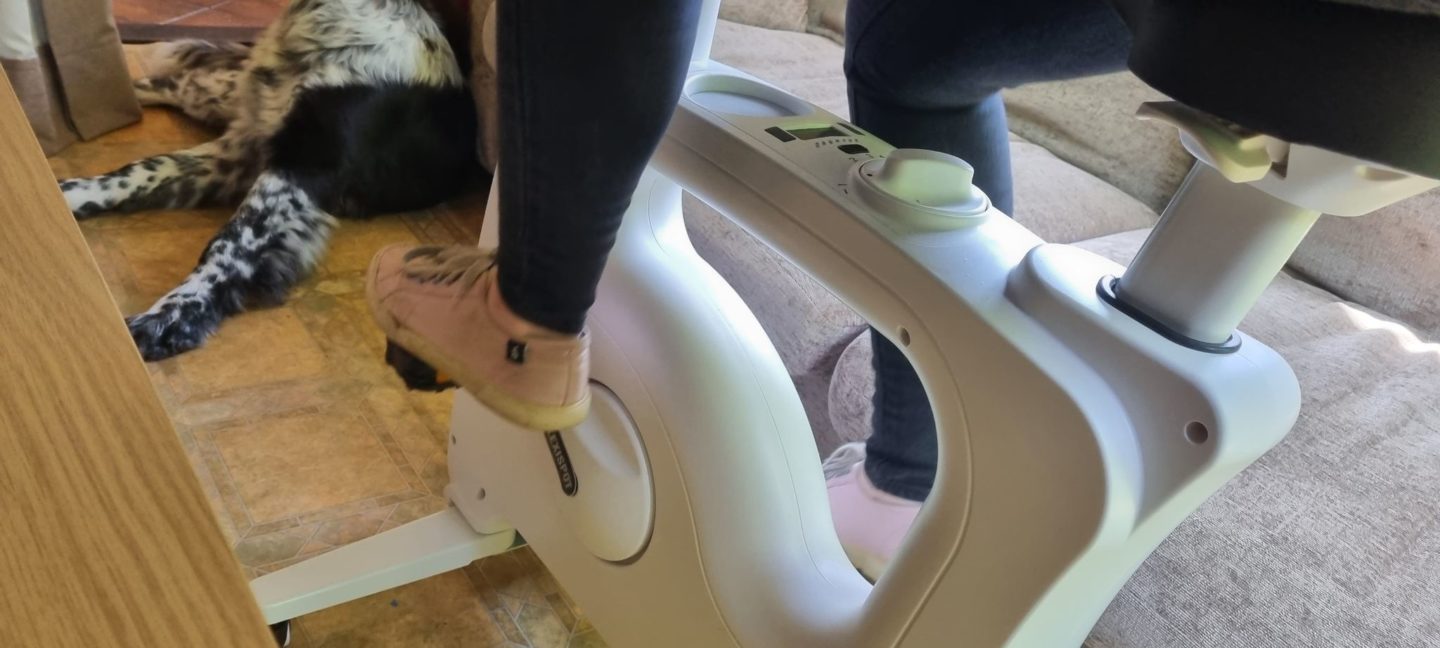 How Easy Is The Flexispot Desk Bike To Use ?
The desk bike is extremely easy to use, different members of the family are able to jump on the bike, adjust to their desired height and resistance and away they go.
Some of them even sit on it behind the TV to use whilst playing against the others on the playstation, so its not just for when you're working.
I would suggest you start off the resistance low as it does take a little while to get use to pedalling whilst working, the older children definitely got on better with it quicker, but I put that down to the fact they are used to playing on consoles whilst still chatting on devices, therefore their multi tasking skills are better developed that mine!!
I have seen some others use the desk bike without the attached laptop desk and just use it with their own desk, however our main office is usually in constant use by my husband for his business, so the attached laptop desk is perfect for me as I rarely use the desktop and prefer the portability of the laptop, so I use it with the desk permanently attached.
if you wish to remove the laptop desk, it is simple to do and just requires you to undo with an allen key (supplied)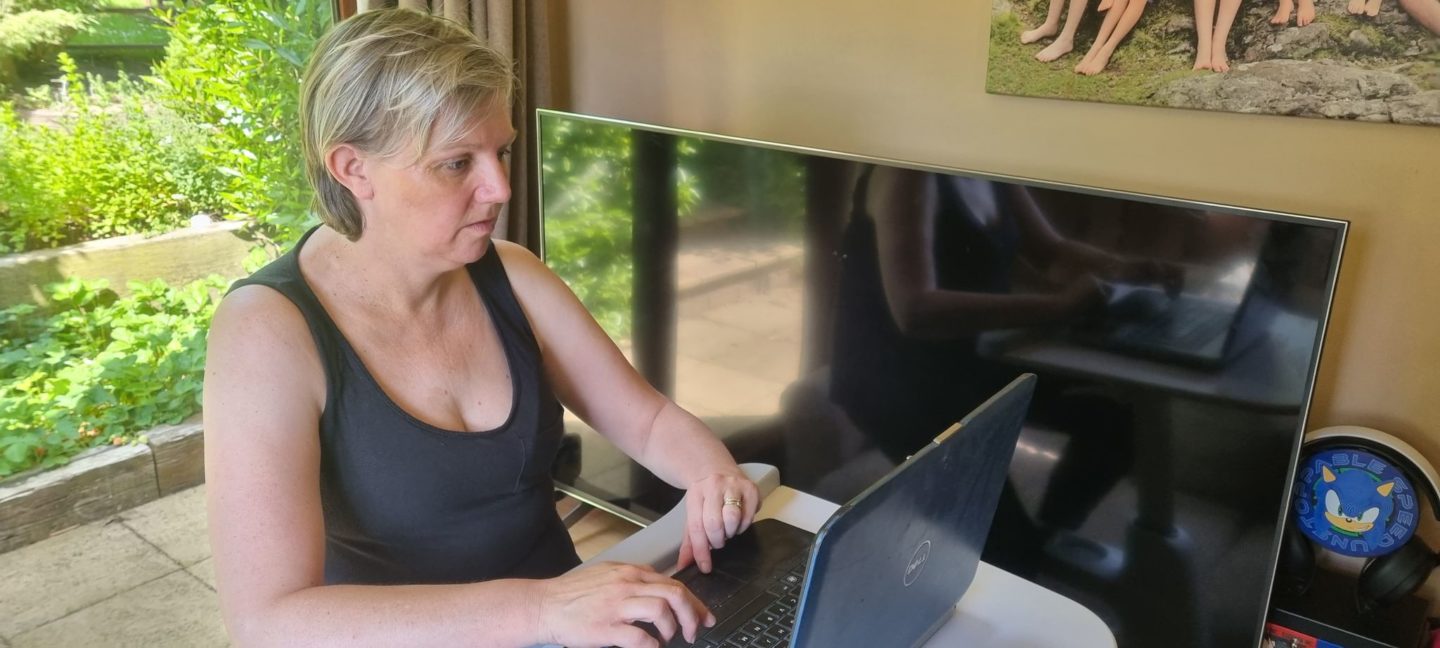 How Easy Is the Flexispot Desk Bike to Move ?
We have various consoles and work stations throughout the ground floor, when the desk bike arrived I was slightly concerned that it would be difficult to manoeuvre around the various areas it was required, but it is actually very easy to move.
Its a sturdy piece of equipment, but the wheels enable you to move it to your desired location quickly and easily, although the two dogs still bark at it when we move it!
It is moved between the lounge, dining room, computer room and TV room, when not in use it is stored behind the sofa in the Computer Room, but its never there for long before someone jumps on for a little cycle!
Overall Thoughts on the Flexispot Desk Bike
The desk bike has been a big hit throughout the household, the older children are getting quite competitive how far they can travel each day, so its certainly improved their exercise whilst sitting on games consoles!
For me I definitely feel like I am no longer just sitting for long periods of time without moving, it definitely gets you to focus on the task you are doing better, as you have to think about your pedalling at the same time!
I think the Flexispot Desk Bike is definitely going to make my work day seem less stagnant and hopefully help me to shift some of this excess weight, whilst earning a living!
If you are interested in the Flexispot Desk Bike or maybe a Standing Desk, check out all the fabulous products on Flexispot Website
I was gifted the Flexispot Desk Bike for Review, however all thoughts and opinions are my own.