With a family of nine, you can imagine what the washing pile is like, if you can't just think of your own and then double it, and then add in a couple of mucky rugby kits three times a week (you get the idea!) Just think Snowdon on a clear day!
So I NEED appliances that are going to tackle the job, quickly and efficiently, with as much ease as possible, I have a large washing machine, and during the summer months, its easy to just hang it out on the line, but with winter on its way, I need a dryer that is going to be big enough to cope and also one that is up to the job.
When I was sent through the information about the AEG T88595IS Heat Pump Tumble Dryer, there were ceratin elements that caught my eye, it can take 9kg of washing and it has ProSteam which makes use of steam technology to quickly, naturally and safely refresh and de-wrinkle all your clothes, even delicates and dry-clean-only garments.
With so many of us there are lots of different shapes and sizes and we all have different materials we like to wear, and it becomes very painful trying to sort them all and work out which ones I can and can't put in the tumble dryer.
The tumble dryer arrived and we took off all the packaging and read the instructions, our previous tumble dryer was a condenser dryer, but I was always forgetting to empty the water container in the bottom, so the dryer would stop, this one has a choice of emptying the water container or attaching a plumbing kit to the back and letting the water drain out that way, we decided that the place it would fit in our utility room meant that we could set up the plumbing system and feed it outside to the drain, meaning I didn't have to remember to empty it!
The instructions were straight forward and it took approx ten minutes to set it up, I would recommend that you put the end of the pipe into warm water to soften it slightly, so that it fits onto the  attachment.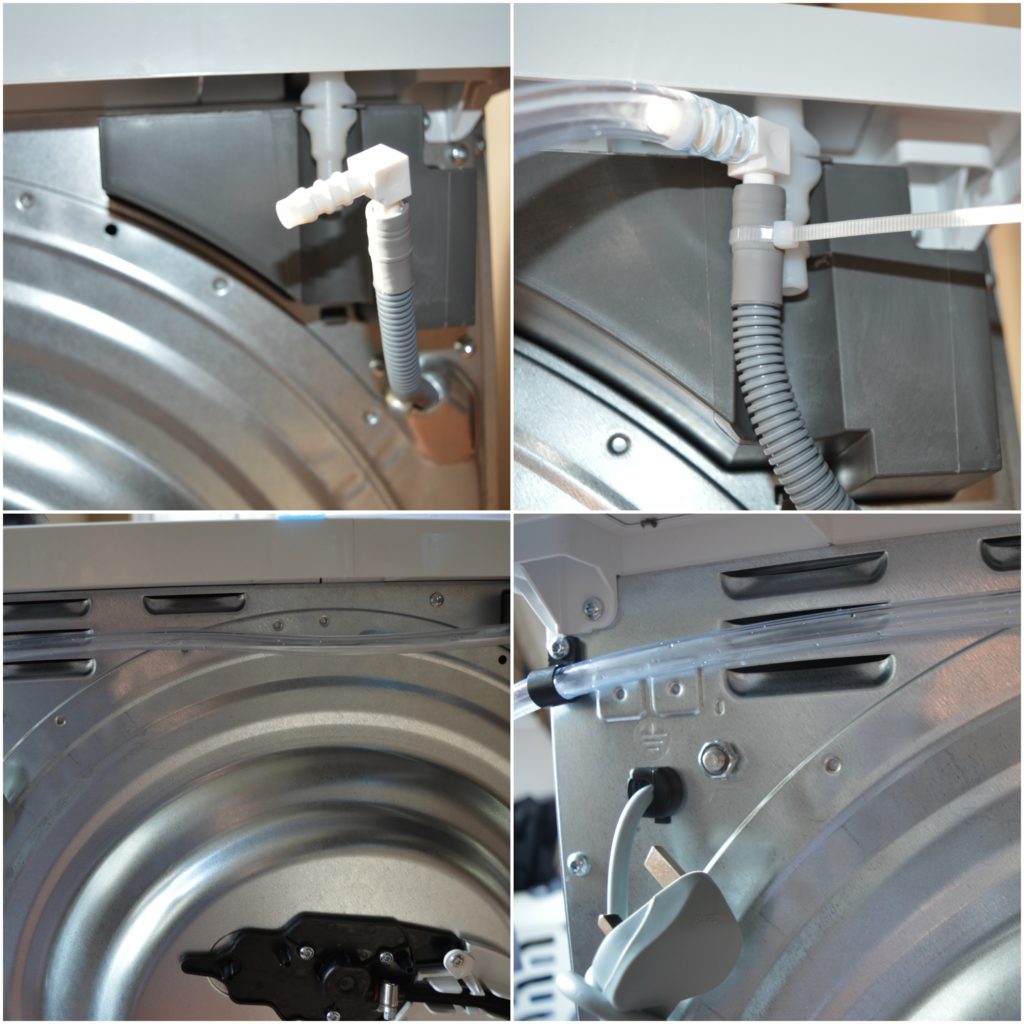 Once this was connected we slid it under the worktop and placed the hose out to the drain.
We switched on at the plug socket, and no lights appeared! The large white button under the silver dial was the one we needed to press.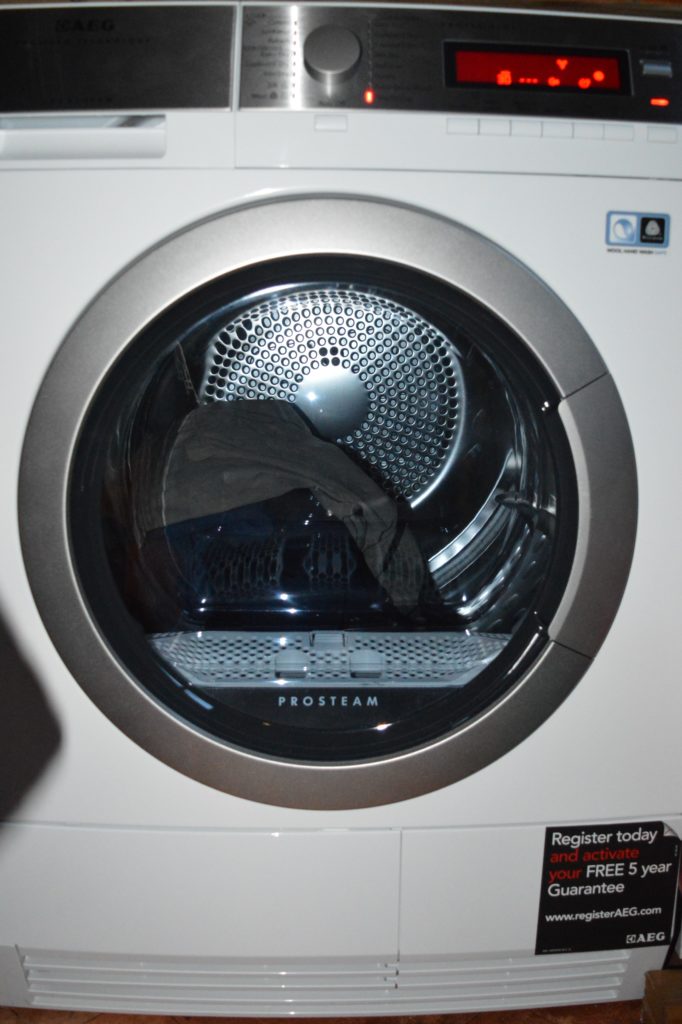 From there on, it was very simple, turn the dial to the required material, a choice of Cottons, Synthetics, or the fabulous Steam settings, each of the materials has sub categories of Iron Dry, Cupboard Dry and Extra Dry, you can then choose further options by pressing buttons, including anti crease, time drying, delay start, basically it does EVERYTHING!
Here is a closer look at the numerous dials and buttons

My thoughts
When I read the description I admit I was slightly sceptical, we have a lot of clothing that we struggle to dry during the winter due to the fabric, Asa lives in walking trousers which would melt in my previous tumble dryer, but he was brave and allowed me to dry them on the minimum setting, along with one of my favourite fleece jumpers and they both came out dry and perfect.
The price is quite expensive, but for me the hours it will save sorting and putting damp items of clothing around my house or fighting with the portable airer is totally worth it. I was slightly overwhelmed with all of the different dials to start with, but now I have got the hang of it, they are brilliant, you can set drying time from as little as 10  minutes, and the light that comes on when it is completed is fabulous, who knew something so simple could revolutionise my drying!
Its very quite and I love the fact that it changes the drying temperature, the rotation and speed of the drum to match the materials it has in.
It also dries at a lower temperature, which is great for lower energy consumption (and hopefully my electric bill!) The intelligent OptiSense ensures a minimum use of time and energy, whatever the size of the load, so it's more convenient, and also prevents over-drying.
Overall this is a truly amazing tumble dryer and I would definitely recommend it for a larger family as the time it saves me is amazing.
"I am a member of the Mumsnet Bloggers Panel, a group of parent bloggers who have volunteered to review products, services, events and brands for Mumsnet. I have not paid for the product. I have editorial control and retain full editorial integrity. [I have received the tumble dryer in return for writing this post]".