The time has finally come, that I have to admit defeat and buy a new bed…
Christmas and birthday mornings used to be easy with two, three or even four children, but they have become impossible. Not only have the children quadrupled in size, but there are just too many of us!
Its time to invest in a Super Kingsize bed, so that I may even have a chance to sit on my own bed when we open our stockings on Christmas morning this year., last year Viggo and I sat on the floor wrapped in a blanket.
It may take a little furniture removal (who needs wardrobes anyway!) but it will be worth it, I do feel sorry for Asa who is much taller than I am, his feet always seem to stick out the bottom of the bed and it never seems big enough.
Asa was quite happy with a new bed, until he realised that it would also mean, new duvets, undersheets and bedding. I must admit when I looked at a couple of bedding companies I did have to swallow hard, then one of the mums at school (best source of information- school playground) asked if I had looked at the Tesco Direct website, which I hadn't even thought of, but i'm glad she suggested it because they have some amazing bedding, at a fraction of the price, and just my type of style, i'm no interior designer and I hate very flowery things, I like things simple but pretty.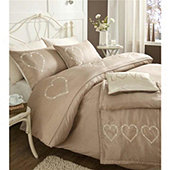 Our bedroom is predominantly beige, so I didn't want to change that, but the very reasonably priced bedding sets do mean that if I decide to change the colour scheme completely (sshhh don't tell Asa) it really won't break the bank.
Now all I need to do, is decide which Super Kingsize bed to buy, will it have drawers, what headboard will I choose, the list is endless, I MAY have decided before Christmas 2015…
Thanks to Tesco for inspiring me to write this post.