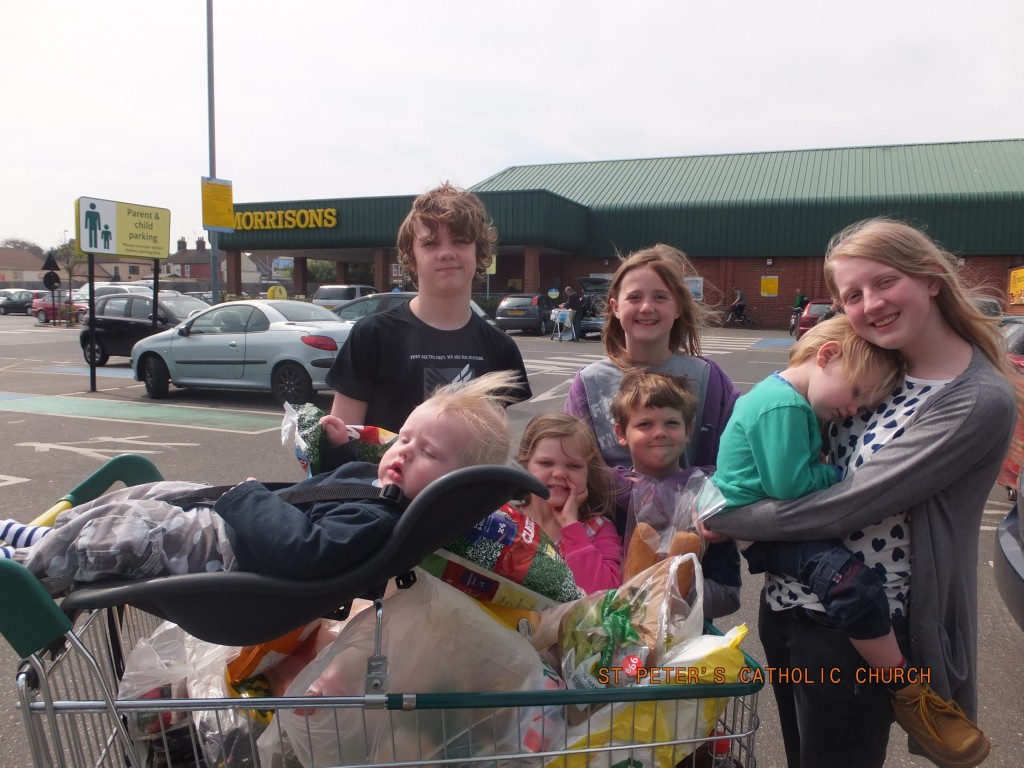 When we found out we had been chosen to take part in the Bank Holiday Shop and be a #MorrisonsMum, the children were extremely excited, everytime we visit, Kaide asks if we get paid money because we are a Morrison!! (If Only)…
The nearest Morrisons to us is only five minutes drive, it has a great choice, but isn't too big, meaning I don't waste three hours of my day food shopping!!
The Bank Holiday weekend had been taken up by a Youth Rugby festival, organising 2,500 people each day, so we decided to do our shop on Monday morning.
The one thing I love about Morrisons is that they have lots of Parent and Child parking, very close to the store, so I never have to worry about the children's safety or parking my big bus!! Today was no exception, there were three spaces free.
On entering the store, it was apparent that lots of people had the same idea, it was very busy!
When I first heard that we had been chosen I had the idea of a family barbecue, however after a weekend of eating burgers and hotdogs at the Rugby Festival, I craved something different!!
The Morrisons website has some fantastic recipe ideas, so I had a quick look and chose something new to make, I decided on Lamb Kofta Wraps, so took the list of ingredients with me.
One of the things on my list was four leaf salad, and when I went to the shelf I noticed a yellow sticker, which reminded me of what Morrisons had told us:
This is the start of a new cheaper Morrisons.
From today, we've cut the prices on over a thousand of your favourite products. Not temporary reductions or supermarket smoke and mirrors, these are new every day low prices on the things you buy every week. So you'll notice the difference with every shop.
And although we're cutting prices, we're not cutting corners. You can check our pricing at www.Morrisons.com/pricecuts.
You'll still get award-winning meat and fish, still get trained butchers and bakers, still get the best of fresh on Market Street and still get friendly Morrisons service.
Look out for the yellow markers when you shop in store and online at morrisons.com. If it says I'm cheaper you know it's staying cheaper.
And that is exactly what I found on many of the products we usually buy.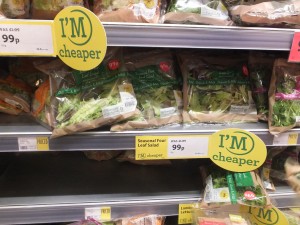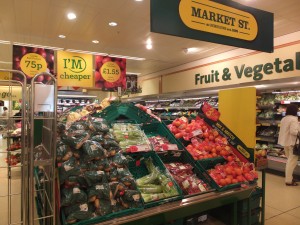 Kaide was extremely pleased that Ketchup was cheaper, as he ADORES it , with most meals…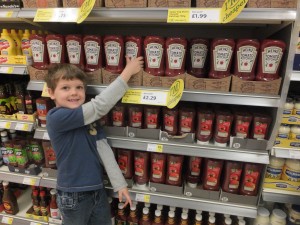 I was a little worried before we went that the shelves would be empty, as it was Bank holiday, but I needn't have worried all of the shelves were full, and there were lots of staff on hand to restock.
We went round the shop at a leisurely pace and each o the children 'added' essential items, such as ice-cream and drinks!!
We got to the place that had the Pizzas and all thoughts of my healthy dinner went out of the window for that evening, we decided as a collective that we wanted something quick, simple and tasty after such a busy weekend.
So, a Pizza and DVD night was decided….
They had some fantastic looking Pizzas that were great value, so between us we decided on two packs of Garlic Doughballs (£1 each) a Garlic Bread Pizza (£1) , A Thin and Crispy Ham and Pineapple (£3.25) Sausage and Bacon Stuffed Crust (£3.25) Hawaiian Heaven and Pepperoni Frenzy (2 for £5), so a quick and easy Bank Holiday Meal cost £14.50, so a cost of £1.80 per person (and a small crust for Viggo to nibble on) for a very tasty and fun DVD Night – We watched The Lone Ranger.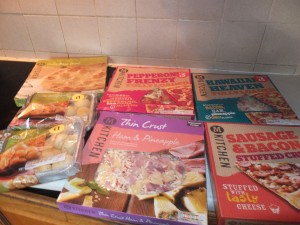 Our entire shop cost£117.42 which is actually cheaper that our usual weekly shop at another supermarket, and I would say the fruit and Veg were much tastier, especially the Strawberries, as demonstrated by Eowyn…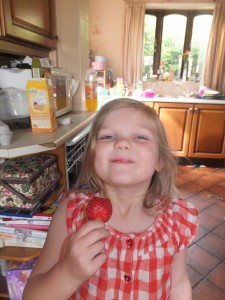 The following evening I made my original meal idea Lamb Kofta Wraps, the original recipe served four, so I doubled most of the ingredients and had a few extra wraps for the fussy ones!!
Lamb Kofta Wraps.
Ingredients
900g lamb mince (£5.98)
4 garlic cloves (25p for a full garlic- I used about 12p )
2 tsp ground cumin (£1.45 for entire jar-I used 10p )
2 tsp dried mint (we got fresh from the garden )
2 tbsp oil (we had oil )
12 flour tortillas (£1.38)
Four leaf salad mix (99p)
8 tomatoes (50p)
Greek style tzatziki (90p)
Red, Yellow and Orange Pepper (99p for the three)
Total Cost – £10.96 for eight people = £1.37 per person
Method
Mix lamb mince, garlic cloves, peeled and crushed, ground cumin, dried mint and season.
Divide into 24 balls and flatten into patties.
Heat 2 tbsp oil in a griddle pan and cook each kofta for 1-2 mins on each side until no pink meat remains.
Lay out 12 flour tortillas and top with four leaf salad mix and 8 tomatoes, sliced.
Place two or three koftas on top and add a spoonful of Greek style tzatziki.
Wrap the tortilla round the filling.
And here we are…
You can have them with Rice or Cous Cous, but they were perfect just by themselves, and the bonus being that ALL of the children ate them, something that doesn't happen very often…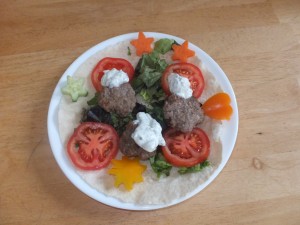 Our #MorrisonMum Shop was very enjoyable, if a little frazzling at times – seven children in a supermarket isn't fun at the best of times!!
The quality and price of the food was excellent and I would definitely recommend it to anyone.