And I don't mean the frozen food shop, before you all think I've gone completely bonkers and suffering from sleep deprivation ( actually I probably am, but that's been there for many years…) although I do love their dessert selection!
As I near the big 40 I have started to think about my life so far and into the future. I have seen many bucket lists for people reaching 30 or 40, but i'm a little too late for those, although I have probably achieved some things that I had thought about doing, but not actually wrote them down.
With another ten years until I reach fifty, I am going to seriously consider writing an actual list of things I would like to achieve (It may turn into reaching sixty as my youngest will only be 13 when i'm 50 …) I have been thinking a lot lately about places I would like to visit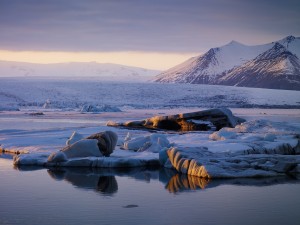 Asa has always loved the cold and snow and his enthusiasm has rubbed off on me in the last twenty years, so if I could travel anywhere it would have to be somewhere with lots of the white stuff, but also with lots of different things to see and do as I don't like to sit around doing nothing. I think that is why i'm not a beach person, I get too bored just lounging about, at the moment I spend my whole time chasing after children, but once they are bigger and its just Asa and I, we need to be doing things! (and no certainly none of that)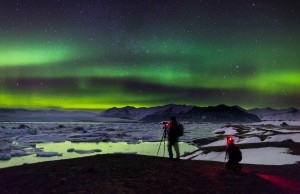 One thing I would love to see is the Northern Lights in Iceland obviously you can't guarantee that they will be visible on a particular night, so our holiday would have to be long enough, to ensure I definitely get to see them! The Northern Lights has definitely got to be one of those wow experiences for travel photography.
If you're not too hot on info about Iceland, good old Wikipedia has tons of info, I think my love of Iceland stems right back to when I was learning the capital cities aged 8, I always loved the way Reykjavik sounded!
Not only does it have this wonderful display, but it has volcanoes and glaciers too, as well as whales watching expeditions or maybe a bit of snorkelling, (although I wouldn't recommend doing both at once!) and guisers that erupt every few minutes, that sounds very cool.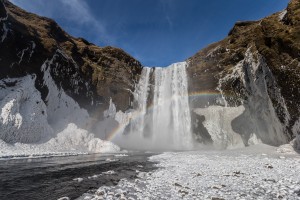 I'm not sure if I am brave enough to take to a snowmobile to explore what Iceland has to offer, I suppose its just like driving a car and it would certainly be quieter than having the seven children in the back!
The thought of Asa and I out on the snow does sound pretty awesome!
I have been reading the Do's and Don'ts of a road trip to Iceland, by the lovely Young Adventuress which gives some great advice about travelling around Iceland and I like the sound of all these hotdogs!
Whilst in Iceland I would LOVE to find some cute little Puffins, i'm not sure what it is about this particular creature, but I think they are adorable (or `a dog bowl' as Viggo says) cue cute pic..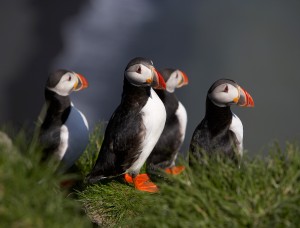 Is there a particular place on earth that would love to go to ?