"Office walls are now my past
I am retiring to the beach at last."
Seems rhythmic? Well, yes. But these are the emotions of a retiring person. He is in love with formal wear. But, now, had to choose casuals after grinding for years. A bit reminiscent. Not everyone can feel it.
So, what's a better time for calling event invitations? Yeah, when somebody is punching a clock for the last time. No more meetings, no more calling, and no more fax. Doesn't that seem like plain vanilla? Feeling so nostalgic? Me too!
How all day struggling with time and now resting for whole life? That's a sweet pain to experience. It symbolizes the time to take a vacation. Hey, are you wondering how to surprise your dad during his retirement time?
Well, that's very easy and emotional. But, you need to prep up for the surprise retirement party invitations. So let's give a toast to your father. This is the right time to make him feel relaxed! After all, he has served professionalism for years. Kudos to his perseverance and undying passion for work.
Come on, buckle up the belt. And, get ready to tour the best collections of invitation cards. This time announces Retirement most uniquely. Intrigued? Of course, so is the reason.
Brush Up Gala Invitation
And, presenting you the perfect event invitations card. This is the most alluring design that makes you fall in love with watery shades.
Select the pink colour with white embossed font. Ensure the size of the font is clear and visible. Mention your address at the bottom and centre the theme of the event.
None of his friends will hold on for long. Check this print and get it customised now!
Best In Show Invitation
How about a black background with a pure golden font? Mmm…visually appealing. It would indeed give you a sophisticated look.
To make heads turn, mention the no. of years of service. Let everyone recognise his incredible dedication at work.
Besides that, mention the address and date so everyone can mix and mingle. Hey, you can message to arrange a potluck party as well. That would be a magical time.
Come on, hurry up. Start decorating your words precisely.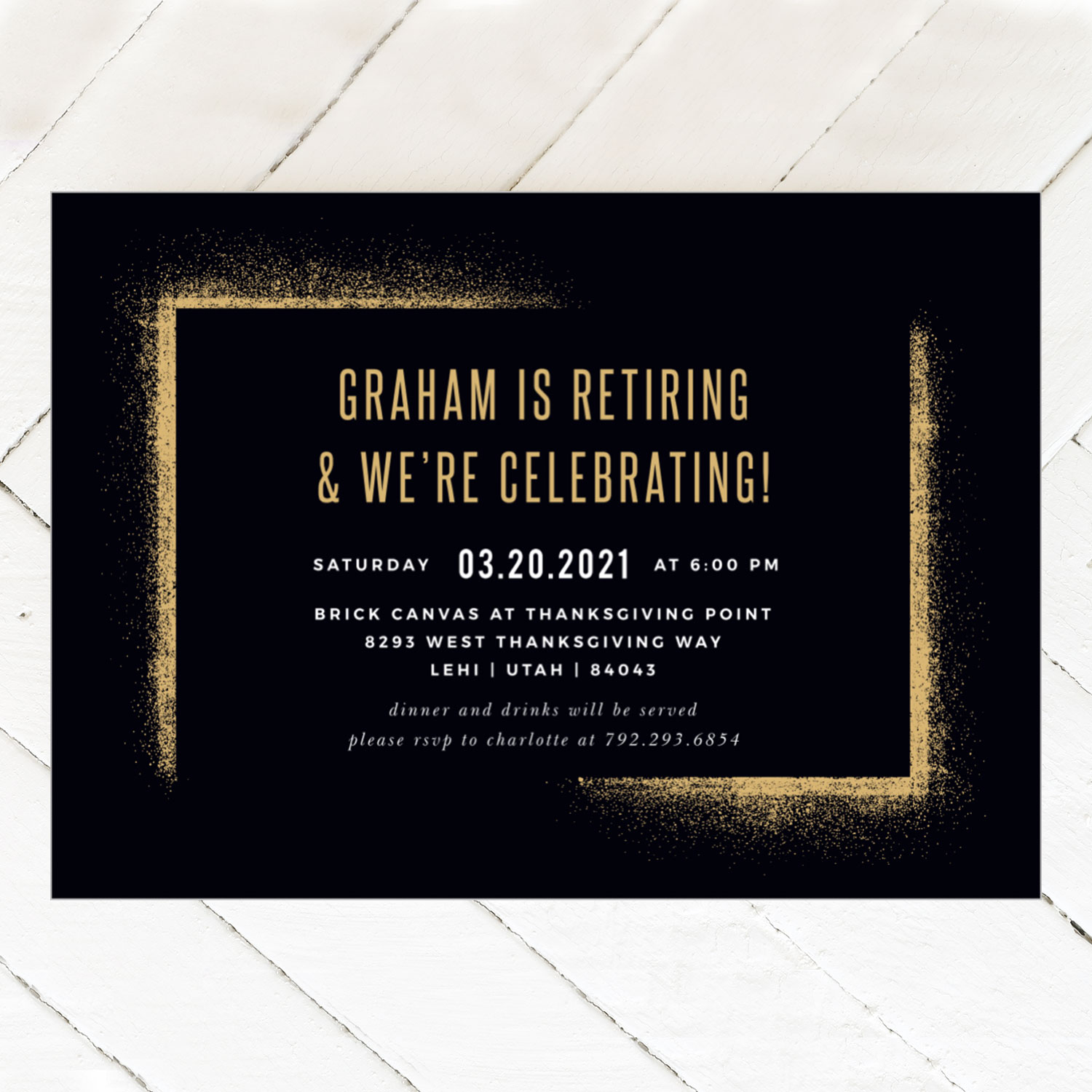 Starry Ball Invitation
Now, this is an entirely mesmerising theme. Half of the surprise retirement party invitations card is covered with golden stars. This will surely turn out to be a show-stealer. Here, choose a trending yet chic style. Let it look fashionable and beautiful.
Along with that, it'll give a royal look with a welcoming message. Burst out the background with a bold black color. A gorgeous mix of font size and font style will go perfect for a corporate invitation. After all, you'll have to invite the office colleagues as well.
The Last Time
Let's give action to your vibe. And, print customise designs in a rocking style. Try it now and get an appealing outlook. You will never stop choosing it.
this is a collaborative post