Greece is the perfect destination for a family adventure, offering exciting activities and many outdoor explorations.
A family trip to Greece will leave you with incredible memories as you explore many beautiful islands, discover ancient ruins and impressive landmarks, hike through scenic trails, and spend fun days at some of the world's most stunning beaches.
But with so many beautiful places to see in Greece, you might need help planning your trip. Below, check out some of the best destinations for family trips to Greece.
Corfu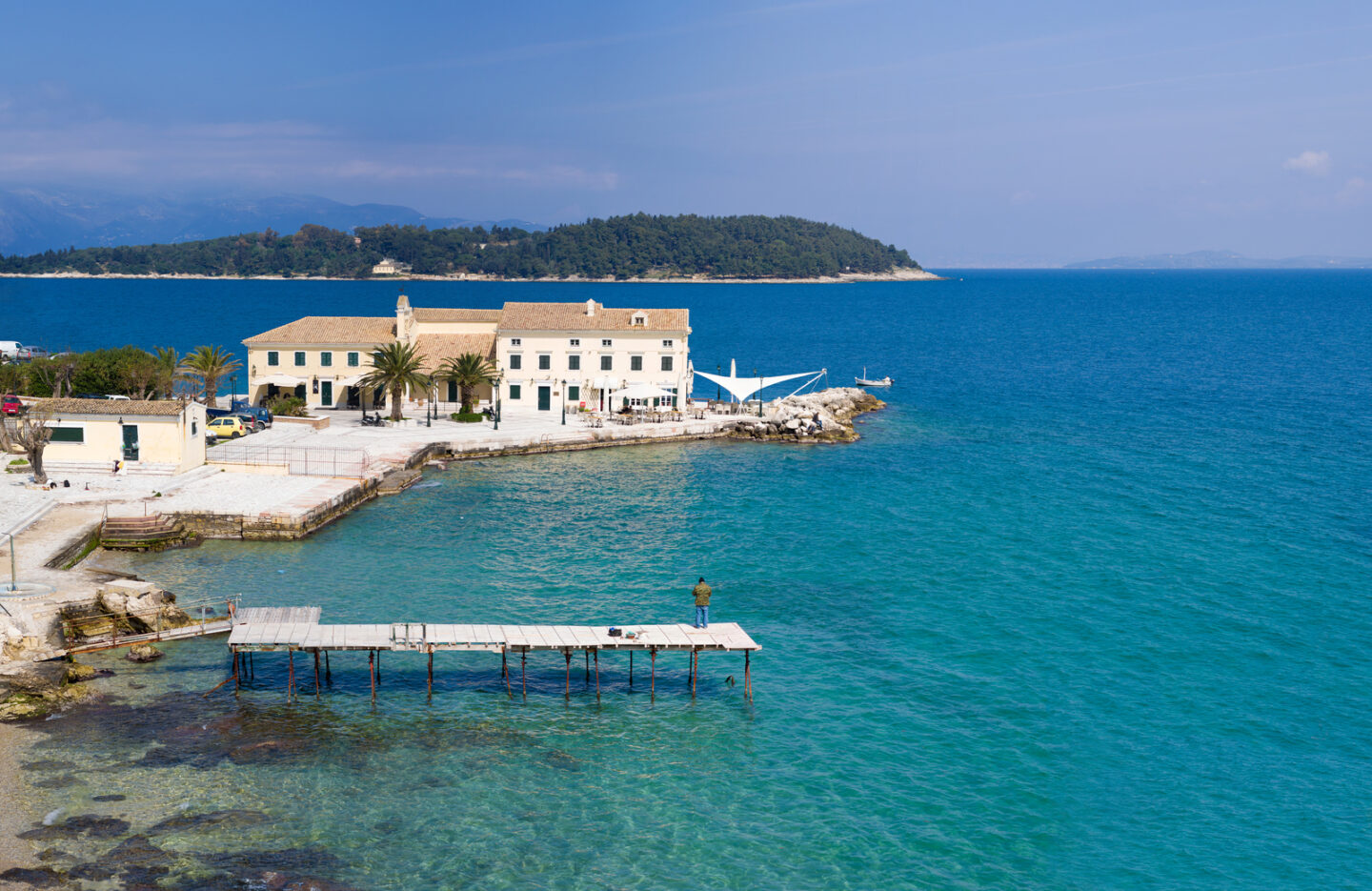 There's plenty to see and do in Corfu with kids, making it one of the best destinations for family trips to Greece. Aside from having some of the most child-friendly beaches in Greece, Corfu offers numerous outdoor activities to keep your active kids entertained.
In addition, the island has some fascinating archaeological sites and museums that will pique the interest of your curious little ones. 
Corfu's many beautiful beaches offer the perfect spot to relax with your little ones and enjoy water activities. Paleokastritsa is a fantastic place to take the kids, a charming village about 20 minutes away from the city centre and is home to some of the island's best beaches.
Head to Agios Spyridon, a beautiful beach with amenities, including a taxi boat station, so you can come here on a boat if you wish.
When it's time for sightseeing, check out Paleokastritsa Monastery, a historic site on a hill in Paleokastritsa. It features magnificent Byzantine architecture from the 13th century and stunning views overlooking the Ionian Sea.
To learn about the island's history, take the kids to Achillion Palace and wander around its museum. Constructed in 1890 by the Empress of Austria, the stunning palace will delight your kids with its beautiful statues depicting Greek gods and goddesses.
Crete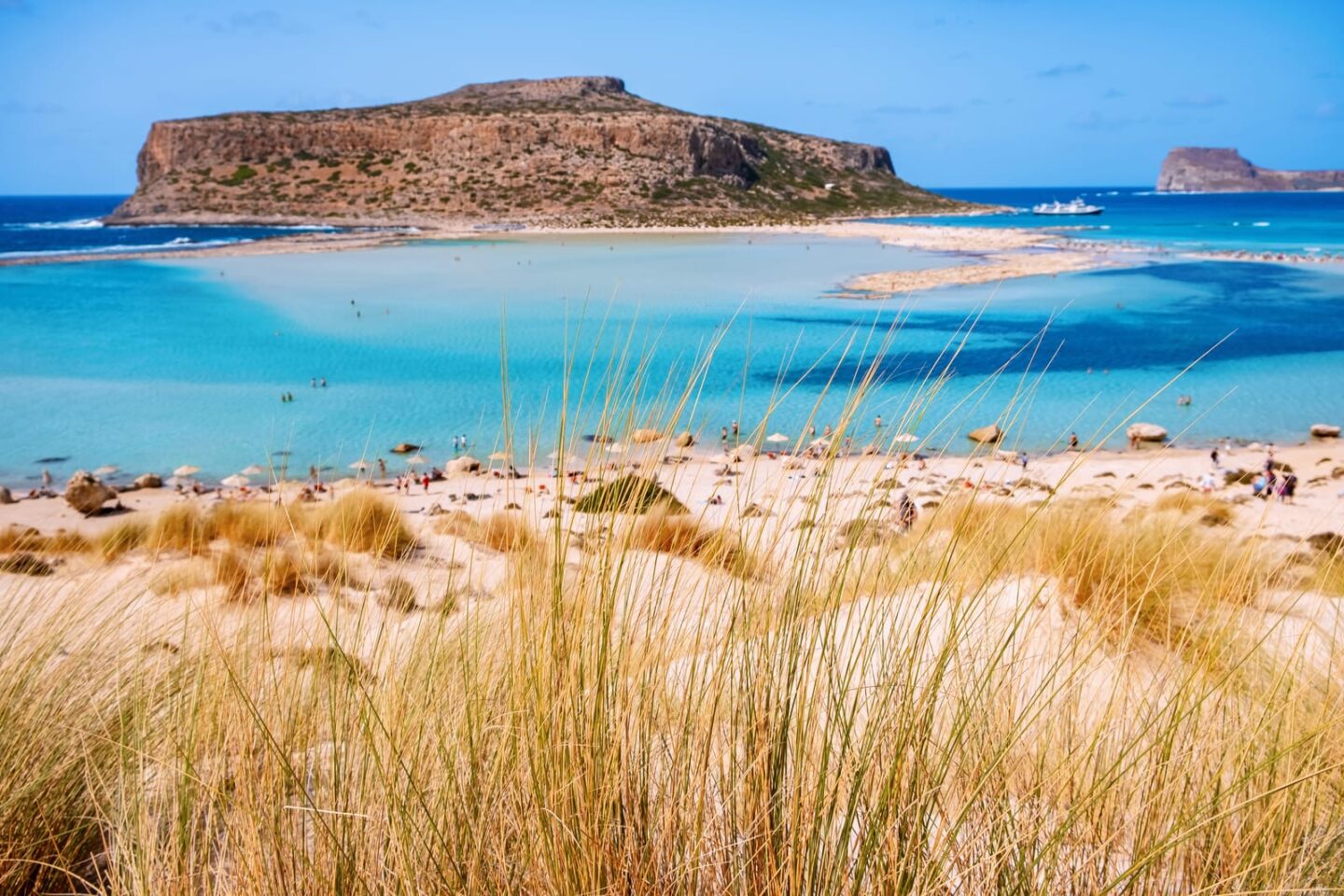 Crete is the largest of all the Greek islands, offering numerous things for families with different interests and tastes.
Whether your kids love to hang out at the beach, explore historic sites, or stroll through picturesque towns, Crete will have something for you.
In addition, you will find plenty of beautiful rentals in Crete, offering the perfect base for families.
Walk through the Venetian Port in Chania is a fun activity to do with kids. The picturesque harbour has a lighthouse, restaurants, shops, and cafes, offering the perfect spot to enjoy relaxing walks while soaking up the views.
As a massive island, you'll have numerous choices for beautiful beaches in Crete. But if you only have time to visit one beach, choose Elafonisi Beach. It has clear blue waters and distinct pink sand, making it one of the most gorgeous beaches on the island.
Crete has thousands of mountainous caves, which your adventurous kids will love to explore. Visit Dikteon Cave and check out its fascinating stalagmites and stalactites formation.
Another cave worth visiting is the Sfentoni cave in Zoniana village, renowned for its colourful stalagmites and stalactites.
Rhodes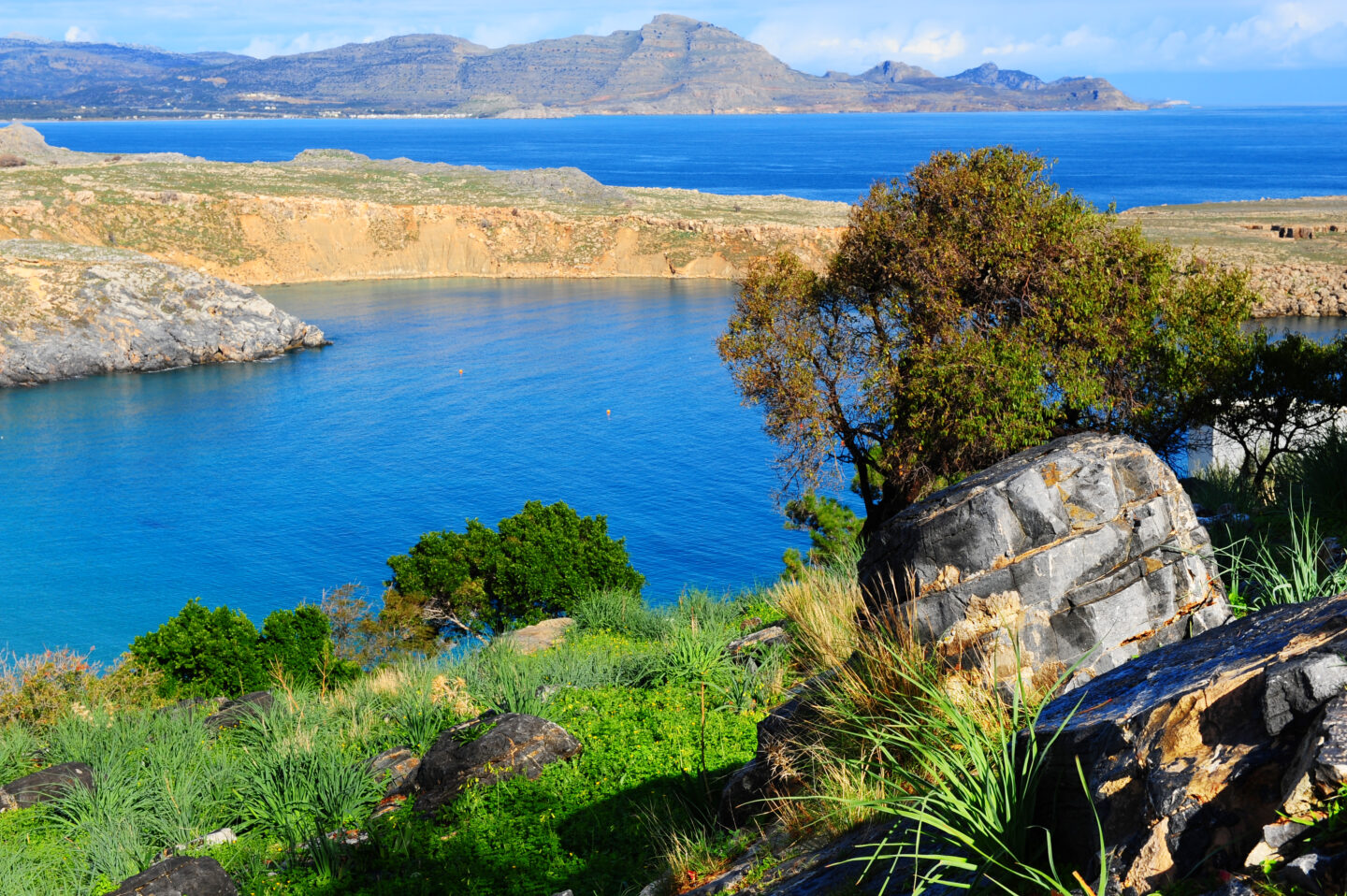 As the largest of the Dodecanese islands, Rhodes has numerous golden sand beaches and stunning natural landscapes you can discover on your family adventure.
Rhodes Town is an ideal base, home to many family-friendly accommodations and a fun place to explore on foot.
If your kids are into fairy tales and stories about brave knights and beautiful princesses, they will enjoy exploring this UNESCO World Heritage Site. 
With fine white sands and shallow waters, Faliraki Beach is one of the most child-friendly beaches in Rhodes, offering an ideal place for your little ones to play and splash around.
The beach is also home to Faliraki Waterpark and Luna Park, offering fun entertainment for kids of all ages.
Your kids will have a blast trying out the wave pool, waterslides, and lazy rivers, while the adults can indulge in mouth-watering snacks and drinks at one of the park's bars and restaurants. 
For a taste of history, visit the Acropolis of Rhodes. Recognised for its historical importance, the complex features several ruins and remnants from the 3rd Century BC. Check out the ancient Windmills of Mandraki, one of the finest examples of Greek medieval architecture.
Santorini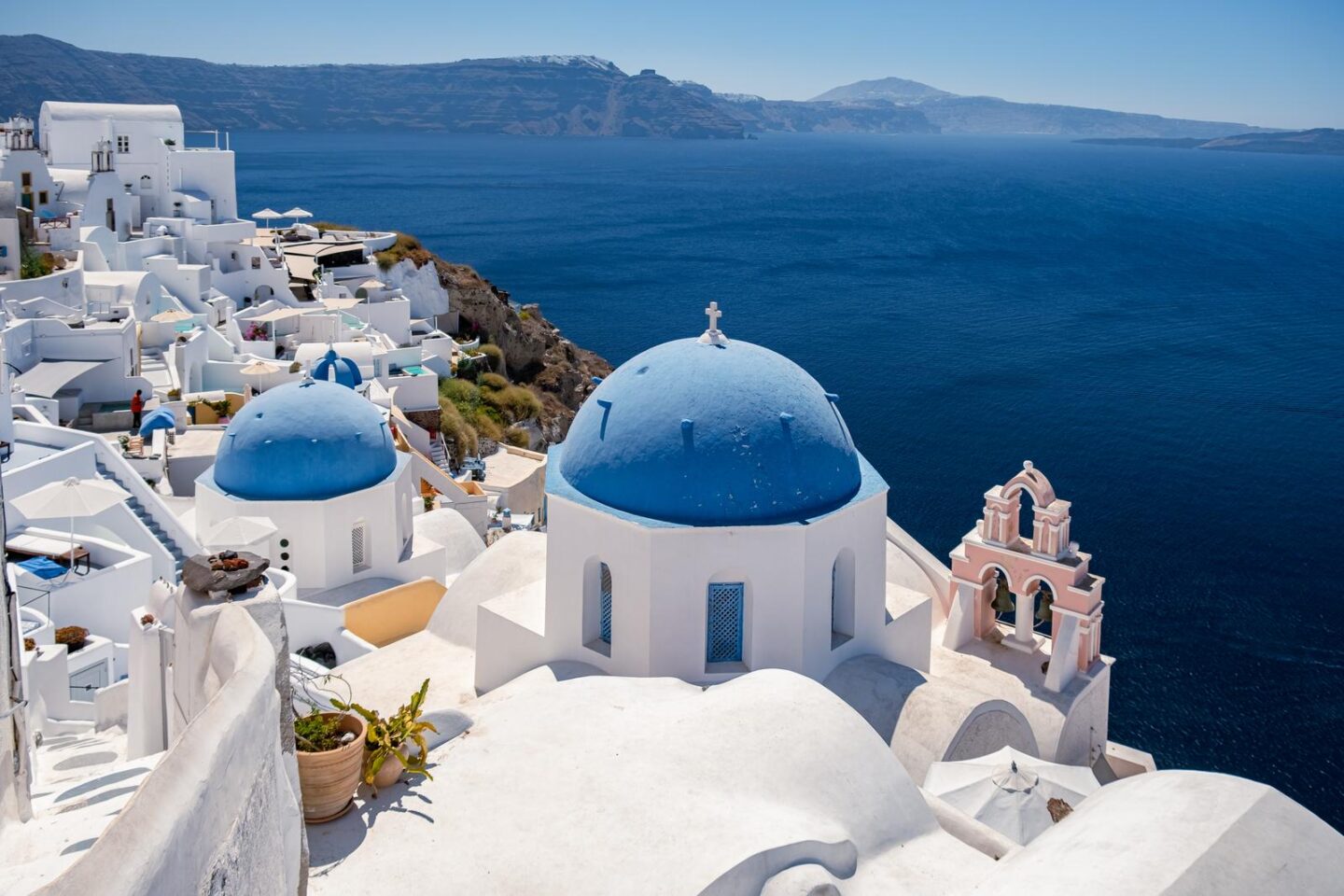 While it's a popular destination for a honeymoon, Santorini is also a fantastic island for families looking for fun adventures in Greece since it offers many things for everyone to enjoy.
In fact, the picturesque volcanic island can be a joy to explore with your little ones in tow!
Book a family-friendly sailing excursion to explore the caldera. Your kids will enjoy swimming in the turquoise waters and soaking up the views.
You will find many companies that offer sailing tours in Santorini, including those that include activities for kids, such as snorkelling.
Kayaking in the caldera is perfect for families with adventurous kids. The caldera is one of Santorini's most fascinating features, formed after a volcanic eruption.
Like many Greek islands, Santorini is home to beautiful beaches. Therefore, expect to spend most of your days at the beach on your family trip.
Kamari Beach is the most popular beach among families. It's spacious and has plenty of sun loungers, offering the perfect spots for relaxing with your little ones.
Mykonos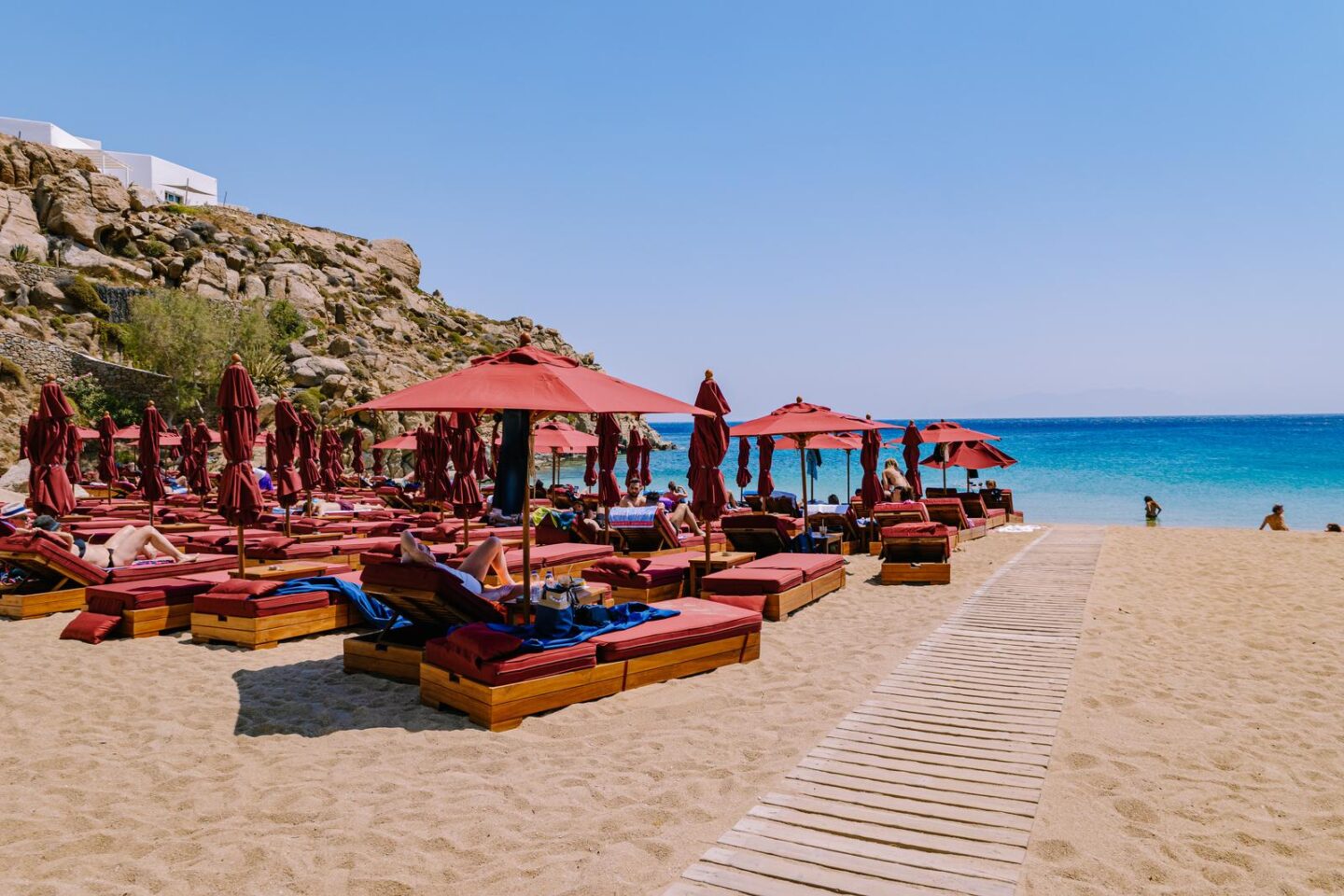 While most visitors come to Mykonos to party, families will also find this island a fantastic place to visit on their Greek holiday.
Beyond its party places, it has many fun activities and attractions to delight adults and kids. 
The beaches of Mykonos are some of the most beautiful in Greece. One of the best places to take your kids is Platys Gialos, a lovely bay sheltered from winds, making it a safe place for kids.
Another beautiful beach is Agia Anna, a small sandy bay with good restaurants serving delectable fish and seafood.
Take your kids to the iconic windmills of Mykonos. Some of these windmills have museums that you will enjoy visiting. While they are no longer in use, they play a significant role in the island's history.
Stroll through the cobblestone streets of Mykonos Town, lined with whitewashed shops and houses with colourful bougainvillaea. If your kids want to rest, stop by one of the cafes and treat them to ice cream and refreshing drinks.