Anyone who has a dining room in their home may agree that it possibly is a room that doesn't get utilised as much as it should.
Sure you may all sit round the table for Christmas dinner, and possibly invite friends and family round for dinner parties every now and again, but generally, it certainly can become a more functional space other than just using it to eat in.
Adults with children may use the dining room as a place where children can do homework. People who work from home might actually use the dining table as a desk. However, I think we would all like to use the dining room for what it was intended more often, and often the way it is decorated and furnished can have a big impact on that. Which is why I thought I would share with you some dining room inspiration to wow your guests and family.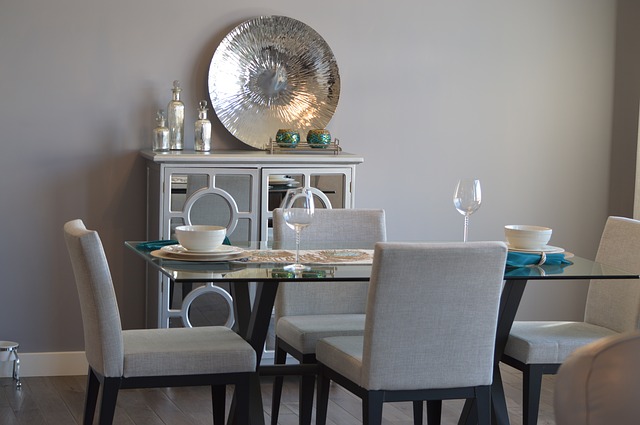 Consider a dining table that sits the maximum people you can fit
Have you ever wanted to invite more than one couple round and realised you just don't have a table big enough?
Many people have this problem and ultimately then forget the idea of entertaining in their dining room and choose an alternative option like takeaway on the knee or even going out to a restaurant. So instead of facing this dilemma each time, why not invest in a bigger table with more chairs.
The basic idea would be to fill the dining room with table and then seat as many as you can around it. You don't always need to utilise each set placing, but even having the extra space may open up a more relaxed entertain space for you and the guests.
Other furniture pieces can add character to a room
A dining room can often be a space in your home that is forgotten because it doesn't have much more use than entertaining and eating. But adding different pieces of furniture can give it more of a function.
You can invest in fantastic contemporary sideboards for dining room spaces, and these can be great storage facilities for things like your best glassware and dining sets. Furthermore, having a space for other things like your financial filing, any work you need to complete, or your collection of spirits and drinks can also come in handy.
Making the dining room a user-friendly place in your home. You could also add a desk area in the corner, saving the table for eating, which may encourage you to use it more often than just a special occasion.
Make some decorating changes such as flooring or the walls
Finally, why not use this opportunity to change some of the decorative features in your dining room? You could change the flooring from a carpet to a modern wooden effect.
Or redecorate the walls in a different colour. You might want to consider styling features such as a feature wall or displaying some of your favourite family snaps. The options are endless, and websites like Pinterest are full of scope to help you make those important interior decisions.