Small rooms are often looked at as a problem but it does not always have to be like that. There are multiple ways in which you can renovate and revolutionise the home décor. When it comes to kitchens, that too the small ones, people start sweating blood over how to make it look good as well as keep the functionality high.
A kitchen is that room of the house where one spends a significant amount of time to prepare meals and spend time exploring one's culinary skills. This means that you want this room to be the least congested so you can relax and have a calm vibe around you.
Talking about redoing the kitchen space, it does not have to be a grand-palace-kitchen or one with a huge kitchen island just like the one in the movies. Always remember that the spaciousness of a room does not define its style; kitchens without a double stove and a huge refrigerator can also look great. The following tips will help you incorporate different elements in your kitchen, position appliances without making the space look too cluttered, and on top of all, make it look great!
1. Start with the Small Things
Little things make the most mess when lying around. Similarly, in a kitchen when small utensils and appliances are placed haphazardly, not only to they make it look smaller but also quite untidy and messy. Deal with the small things first to avoid this kind of clutter.
Drawers and Cabinets
The best way to deal with utensils, cutlery, and kitchen gadgets is to keep them in drawers or the cabinets. They remain safe there, away from moisture, dust, and other things that may ruin them and decrease their life. Make sure to not remove the packaging for maximum protection. Another benefit of installing them is space-saving; utilizing the vertical area saves space on the counters and the floor. In this way, you can hide all the small stuff in there and make the kitchen setting look more open.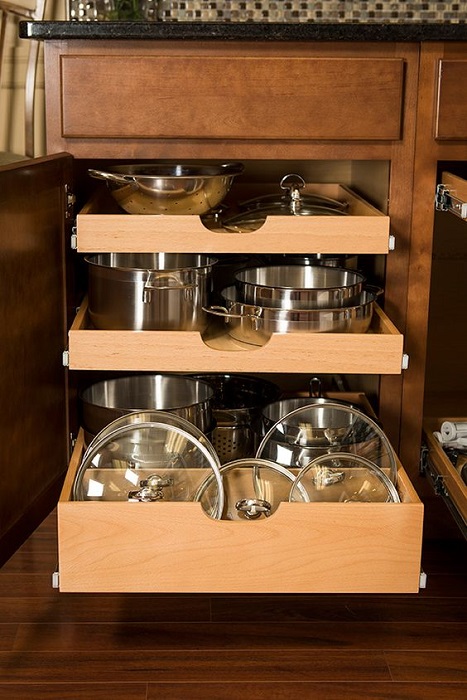 Install Racks
Racks come in handy especially when you are trying to organise the little things. You can
either use the hangable ones or just keep a floor-to-ceiling rack to keep all the stuff ordered in a place. There are so many options in racks to choose from; metallic, wooden, plastic, etc. You can pick one that goes the best with your style and the kitchen's setting.
Slots
Slots are a minimalistic way of incorporating the concept of built-in in your kitchen. It has various uses that can not only help you keep your things at hand and well-ordered but also save tons of space. They can be installed almost anywhere; walls, between counters, cabinets, etc. The best thing about slots is that they do not have to be built. Even if there is a slit between two appliances where you think your cutting board would fit, voila!
2. Kitchen Sink Ideas
The sink might not seem like something that takes a lot of space due to its deep bowl-shaped structure but it might take up to a foot or half on the countertops. Here are some ideas for placing the right size of sink in your kitchen so it does not only look elegant but also take very little space:
Small Scale Sinks
Simply go for a single sink than a double one. The single-bowl sink might not be that luxurious and elegant-looking for some of you but when it comes to space-saving, they come quite in handy. Place a single-bowl sink on a countertop preferably in the centre to create an illusion of a wider space. Pairing it up with light-toned countertops can help in making the setting look brighter and hence, bigger.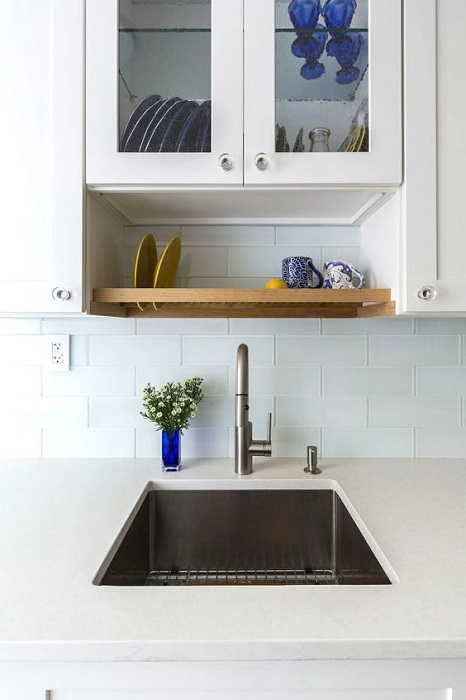 Undermount Sink
Undermount sinks are the best for small kitchens. They take up very little space and have concealed sink lining which provides much more space on the countertops for working or placing other appliances.
No Sink at All
I know what you are thinking. No sink? How is that even going to work? Well, if you have a dishwasher, you can simply move the sink or a basin outside the kitchen door (if the back door opens towards the outside). This will save space whilst providing the utility of the sink.
3. From Built-in to Pull-out
Since forever, the concept of built-in and pull-out storage has been a major part of space-saving solutions for small settings. For a not-so-spacious kitchen, they could not work more perfectly. A pantry is usually the biggest concern in a tiny kitchen space; this is where the pull-out, slim and sleek pantry will save the day. The most amazing thing about pull-out pantries is that they are slender but they fit in much more than you expect. You can fit in groceries, spices, snacks, and much more. Even the small appliances like a hand mixer and grinder can be placed in there.
Wall-mounted or built-in appliances are a great way to save space on the floor and the counters. You can include a wall-mounted oven, dishwasher, pantry, etc. in your kitchen or add a shelf built in the way to keep things there; in this way, the rest of the kitchen space remains free. The shelves will not only provide a place for keeping extra flatware and crockery but also other kitchenware like handy appliances and cooking essentials.
Decorating is Always a Good Idea
For small settings, decorating is always an off-limit option for people. It is nothing but a misconception. Instead of thinking of décor as a space-consuming manoeuver, consider it a smart way of utilising space. Here are some ideas you can use to incorporate décor in space-saving and making you kitchen look stylish and elegant:
Make a collection of spices in mason jars and display them on wall-built-in shelves.

Hang cutting boards in pattern to create an artistic display.

Display cookbooks and flatware on the shelves to give an elegant restaurant-vibe to your kitchen.

Keep the big bowls and trays on the shelves; you can decorate the shelf with jute to complete the rustic look.
4. Kitchen Island Ideas
Kitchen islands are considered the least when the kitchen setting is small. Never cross out options as you can incorporate almost anything if you do it smartly. Generally, things are lined up in a gallery of the kitchen. Try being innovative with placing and position of things.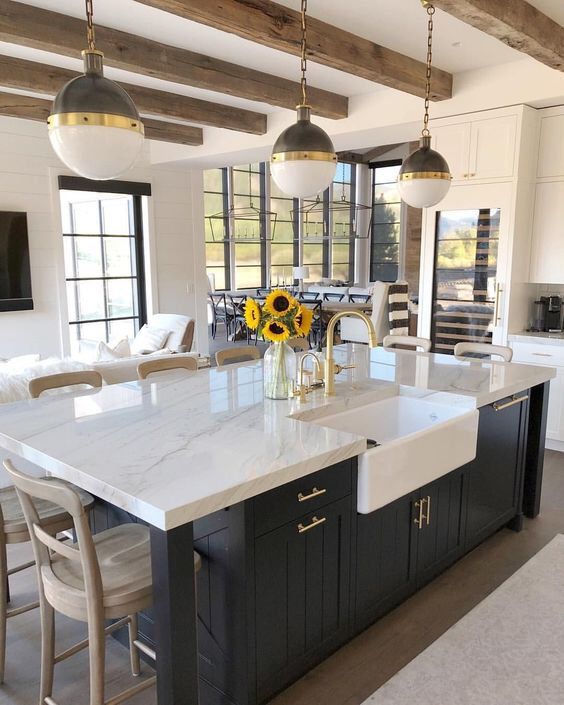 MacGyver Kind of Island
What is better than a 2-in-1? An all-in-one! Instead of lining things against the walls, try getting a compact all-in-one island with pull out drawers, slots, and racks. A MacGyver-style island will even offer you a trash can built-in. You can always invest in a custom-made that goes exactly according to your needs. Include a sink, a preparation space, a stove, a range, a place to keep pots, pans, flatware, spices, and a trash bin. If your kitchen can handle a little more than this, perch in spots for people to have a dine-in in the kitchen; stack a couple of stools in the corner that can be used at mealtime.
5. Simple Hardware
As insignificant as it may sound, the style of hardware can have a huge impact on making your kitchen look more open and brighter. Let us look at it in this way, a thick and broad window frame does not only consume more wall space but also add a bulkiness to the room. If you add a slenderer frame with a glossy finish, it will fit in smaller space, look sleek, and well-designed keeping the aesthetics of the setting well-maintained.
Play with pastel and neutral colours; add a glossy finish to the woodwork to keep the kitchen bright. Contrasting is a smart idea you can incorporate by adding complementary colours to the furniture of counters.
6. Eliminate the Door
Taking off the door can contribute a lot to make the kitchen look more open. If your kitchen is directly connected to the dining or living room it will make your life easier by 'almost' merging the two rooms. Taking the door off will give an illusion of a bigger kitchen but removing the window frame or taking down an entire wall will have an even bigger impact and significantly make the kitchen look bigger.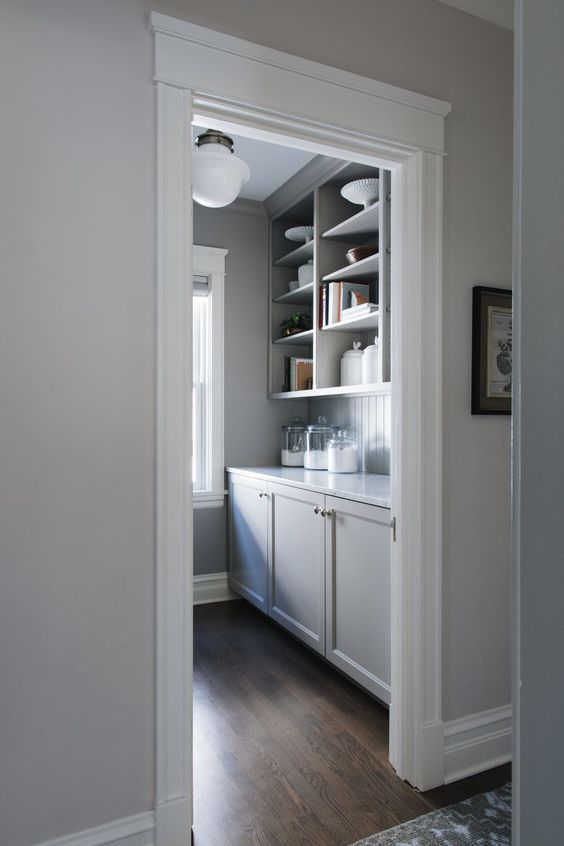 7. Make Use of ignored space
The space between appliances, slits, and vertical space is often ignored. If you are trying to save maximum space, make use of this space and adjust the most possible kitchenware there.
Place glasses and pots on the window sill or just hand the bigger pots on the upper side.

Use the top of the refrigerator as a pantry or for placing extra ports and kitchenware.

Hang oven mittens, aprons, overalls, spatulas, etc. on the wall.

Add a floating shelf for displaying glassware.

Corner cabinets often remain unused as they are hard to access completely from the inside.
Add a pull-out rack to make the best use out of it.