The goal of every parent is to make their children comfortable. From providing for their basic needs to showing them love and care, there are no limits to the distance a child's parents would be willing to go for him or her. Every good parent would like to have their children sleep in a comfortable and well-decorated room. You, as a parent reading this, are no exception.
It's possible that you probably already have a decoration idea for your child's room, but most of your ideas should be inspired by the things that you are sure your child loves.
From the color of the room to the texture and other details; you would be surprised that creating a perfect bedroom for your child takes more effort than you envisaged.
Having your child's room well-decorated offers a lot of benefits for your child. You want your child to sleep in a comfortable environment where his/her developing brain can thrive and be inspired.
To make sure your child's bedroom is one that guarantees good sleep and quality time for all the time he/he spends in the room, you have to get creative with the room decor. Here are seven ways to inspire your imagination to decorate your child's bedroom creatively.
1. Make the room all about your child
Irrespective of the ideas you may have in mind for the decoration of your child's room, it is vital that you consider your child's hobbies and interests.
For instance, if your child is one who loves aircraft, you can design the room with an aircraft theme. You can have pictures and labels of various aircraft models on the wall. Use different decorative stickers for airplanes and flying jets to decorate the wall.
There are so many ways you can get creative with this that even as your child grows, the room wouldn't feel so outdated.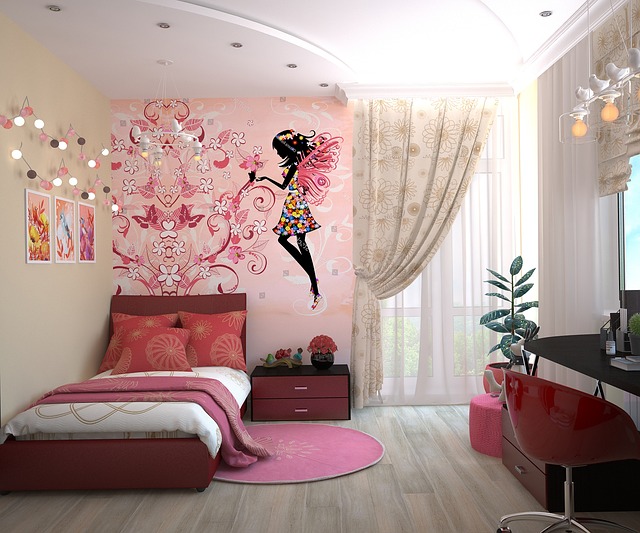 2. Get a unique bed in the room
The goal of paying so much attention to the decoration of your child's room is to ensure that your child has somewhere he/she can relax, have a good time, and sound sleep.
To keep your child energetic and healthy, he/she needs sleep comfortably when they need to; and proper rest is incomplete without a cozy bed that he/she can warm up to.
Get a bed that's comfortable to be in, and ensure its design is around a concept that your child loves and is familiar with.
3. Create a craft space
Children should be encouraged to do things with their hands, and one of the best ways to draw out your child's creativity is by providing a space to craft things.
You can set up a spot where he/she can draw things with the drawing materials that you provide. Your child may prefer crafting stuff than drawing – be sure to provide him/her with the necessary materials such as cardboards, child-friendly gums, colors, and anything that suits his/her specific needs for crafts.
4. Include a play space
No matter how much we all like our children to focus on and excel at school work, we cannot completely ignore the fact that it is the nature of children to play.
You should include a play space in the setup of your child's bedroom and have enough baskets and bins to keep things organized.
5. Let the room have enough light
A child will be mostly uninterested in a dim or almost dark room. You should ensure your child's bedroom is a place where he/she can read and do homework in with as much natural daylight as possible.
You can also invest in some themed lights to fit a concept that your child loves. You can put in star-like lighting if your daughter loves the Cinderella story or has the idea that she's some princess.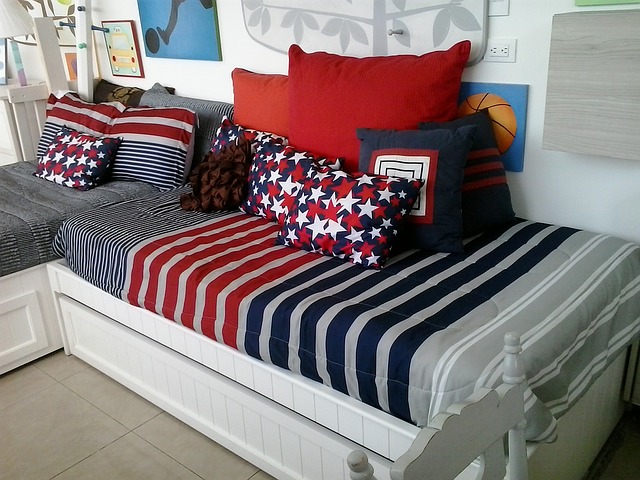 6. Create an exciting setting with colours
With colours, you can create an exciting and stimulating environment for your child. A neutral and calm tone should do for a child, and then you can spruce it up with different designs and themes that will spark your child's interest. Over time, as your child grows, the color setting can be adjusted to align with his/her changing interests.
7. Include a reading nook
If you provide your child with a comfortable room, including a space for reading in the setup is an excellent way to encourage studying. Place a bookcase in the corner of the room and a soft sofa where your child can settle in to read.
About the author:
Annabelle Carter Short is a freelance writer, blogger and seamstress of more than 5 years. Annabelle writes for several online Arts&crafts, sewing, and decor online publications and magazines. When not working, she's spending time with her family and friends or putting pen to paper for her own personal pursuits. She would like to start online Arts&crafts business one day. Annabelle is a mother and she loves making crafts with her two children, Leo (age 9) and Michelle (age 11).