If you are expecting a little one, the room that you give them has to be one of the most special and magical parts of your home. It is the room that your baby will feel the most comfortable in and is the room that they are likely to also spend the most time in. You want a nursery to feel warm and welcoming, and also cozy and safe at the same time.
Decorating Is Easy
Decorating your nursery for your baby is important, and is something that parents often ponder over for an incredible amount of time. Painting, in particular, is something that is a cause of concern for many parents. Many of them believe that the color that they choose will reflect the personality of the child and many believe that color should be in keeping with gender roles.
Some parents are even wary of the paint that they use because of the potential toxins that may be present in it. Fortunately, there are more than enough ways to decorate a nursery without even painting it. If you are expecting a baby soon, and are wondering of ways in which you can decorate the nursery, look no further. Here, we have some inspiration and tips that can help you put together a nursery which is fun for the kids and chic enough for the adults!
1. Design Your Own Canvas Prints
When designing a nursery, you always want to be able to put up things that are unique and which your baby will respond well to. The paintings on the wall, for example, should usually exude positivity, especially because it is likely that your child will remember the room as they grow. One idea to make your walls look unique is to put up printed canvases. A photo canvas can be of any picture, text or artwork that you want your baby to be able to see.
2. Make The Crib The Center Of Attention
If you want your nursery to look good while still not changing much about it, consider making something the focal point of the room, and something that you can work well with. For a nursery, the crib is one piece of furniture that can work well for those who want something unique and simple. Go in for a crib that stands out or which looks chic to instantly take your nursery up a notch.
3. Put Up Bold Patterns and Colors
Having a bright and beautiful nursery is always one way to go when it comes to decorating this space, and the color that you bring into the room doesn't always have to be on the walls. Consider investing in upholstery that are bright in color and which have bold patterns to make them instantly stand out against a plain wall. For this, you can choose from a varied range of color tones which would all look good with a simple light-colored room.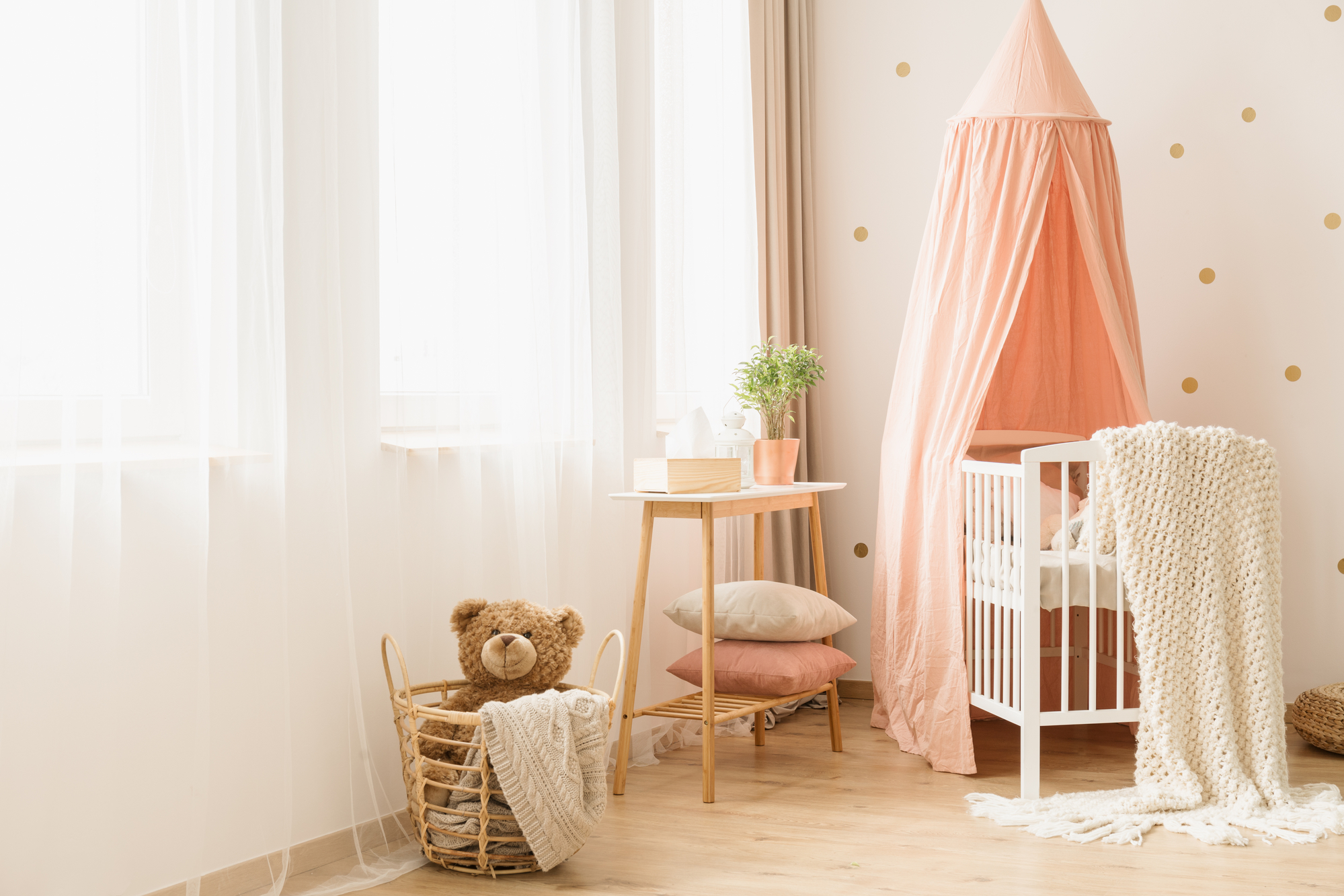 4. Detail The Ceiling
If you want to bring in something extra into the room, consider doing up the ceiling. The ceiling can be made to have an intricate design either from wall decals or from wallpaper that is specially designed for this part. Bright colors and intricate patterns can work incredibly well for this purpose and can instantly brighten up a room.
5. Go With A Theme
If you want to decorate the nursery in a way that makes it look seamless, consider choosing a theme and find ways to incorporate that. When doing this, try to only use colors that are within that theme and consider getting certain pieces of furniture that would be in sync with the theme that you are going in for. This can help you get a room that the kids and adults both absolutely love.
6. Use Your Baby's Name
Using your baby's name to decorate parts of the nursery is something that many parents are choosing to go in for. Things like LED Letters, wall decals and other kinds of art are brilliant for this purpose and can usually be customized in a number of ways. You can either use your baby's name to be the focal point of the room, or you could use it in a smaller part of the room to add a special touch to it.
7. Add A Growth Chart
A good, practical and long-lasting way to decorate a nursery is to add a growth chart. As your baby grows, you are going to want to track their height, weight and overall growth over the months and years. Having a growth chart can help you track this down with absolute ease and is something that can work well for those who want to make the room a sentimental place for both the baby as well as the parents.

8. Use Smarter Storage
One of the biggest problems that parents tend to have when decorating a room is not having enough storage for the things that their baby needs. Consider incorporating storage into other parts of furniture such as the crib or changing station to get the most out of the space that you have and so that you never have to struggle to find space to keep things inside the room.
9. Install A Good Looking Changing Station
The changing station is another piece of furniture that can be used as the focal point of the room. If you have a room with plain walls, you can choose a changing station that has a well-designed pattern or colors on its body. This can also bring in the much-needed color that the room often needs.
10. Don't Forget About The Nursery Chair
While most of your nursery will be designed to fit the needs of your child, it is important to note that some of the things within the nursery are for you as well. The nursery chair is just as important as other parts of the room, and getting a good looking chair that is comfortable and functional will always be incredibly beneficial.
this is a collaborative post